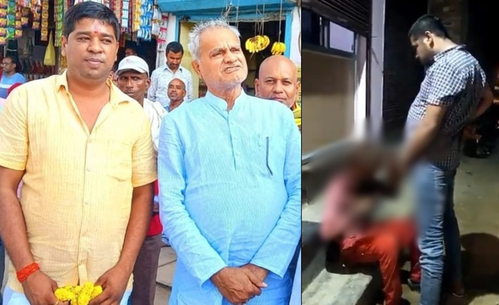 Bhopal, Sep 13 (IANS) BJP worker Pravesh Shukla's inhuman act of urinating on a tribal man in July in Madhya Pradesh's Sidhi district had sparked a nationwide controversy, following which Chief Minister Shivraj Singh Chouhan even washed the victim's (Dashmat Rawat) feet.
Three months later, a similar incident has been reported, and this time from the state capital Bhopal, wherein a group of people allegedly thrashed a Dalit man and urinated on him. The victim told the police that when he regained consciousness, he found himself at a hospital.
While the previous incident was reported from a rural area around 40 km from Sidhi district headquarters, the fresh incident has been reported from the state capital, which itself raises questions over the law and order situation in the poll-bound state.
The victim — Ramshwaroop Ahirwar (39) — alleged in his FIR lodged at the Sukhi Sewaniya police station that he was kidnapped and beaten up by a group of people until he lost consciousness, before one of the accused urinated on him.
As per the FIR, Ahirwar, who is recuperating at the Hamidia hospital, was tortured for doing his duty.
Ahirwar said he received a call from Patwari Arun Mudgal, informing him that someone was putting wire fencing on government land which he should check.
"Upon receiving instruction from the Patwari, I reached the spot and found that a person named Mastan Meena, a resident of the same village, was putting up wire fencing along with the help of some labourers.
"When I stopped them from doing so, they called the main accused Sheru Meena, who reached the spot with three others and started abusing me," read the FIR, a copy of which is available with IANS.
Meanwhile, Sheru Meena and his aide started thrashing Ahirwar. After that, Sheru forcefully tied his hand with a rope, put him in his car and took him to a different location, Ahirwar alleged.
"They thrashed me there as well and when I started fainting, Sheru Meena urinated on me. After that, they took me to Sheru Meena's house in Sanjeev Nagar, beat me up and locked me in a room, where I fell unconscious for about 2-3 hours," the victim added.
Some people later took him to the Hamidia Hhospital and thereafter he lodged an FIR.
The police have registered a case under the relevant sections of the IPC and SC-ST act.
The police have so far arrested five accused, though the main accused Sheru Meena is still absconding.
Meanwhile, the opposition Congress has accused the BJP of trying to shield the main accused, alleging that he is associated with MLA Rameshwar Sharma.
Madhya Pradesh Congress media in-charge K.K. Mishra said, "The main accused Sheru Meena is yet to be arrested, which raises the question as to whether the BJP is trying to save him because he has been associated with MLA Rameshwar Sharma. Why every time BJP workers are responsible for such incidents," Mishra asked.
Rameshwar Sharma, who is the BJP MLA from Huzur Assembly constituency and is considered close to CM Chouhan, told the press, "Ramshwaroop (the victim) and accused Sheru Meena both are my supporters and they have been good friends. Neither am I aware of the incident, nor am I protecting anyone."