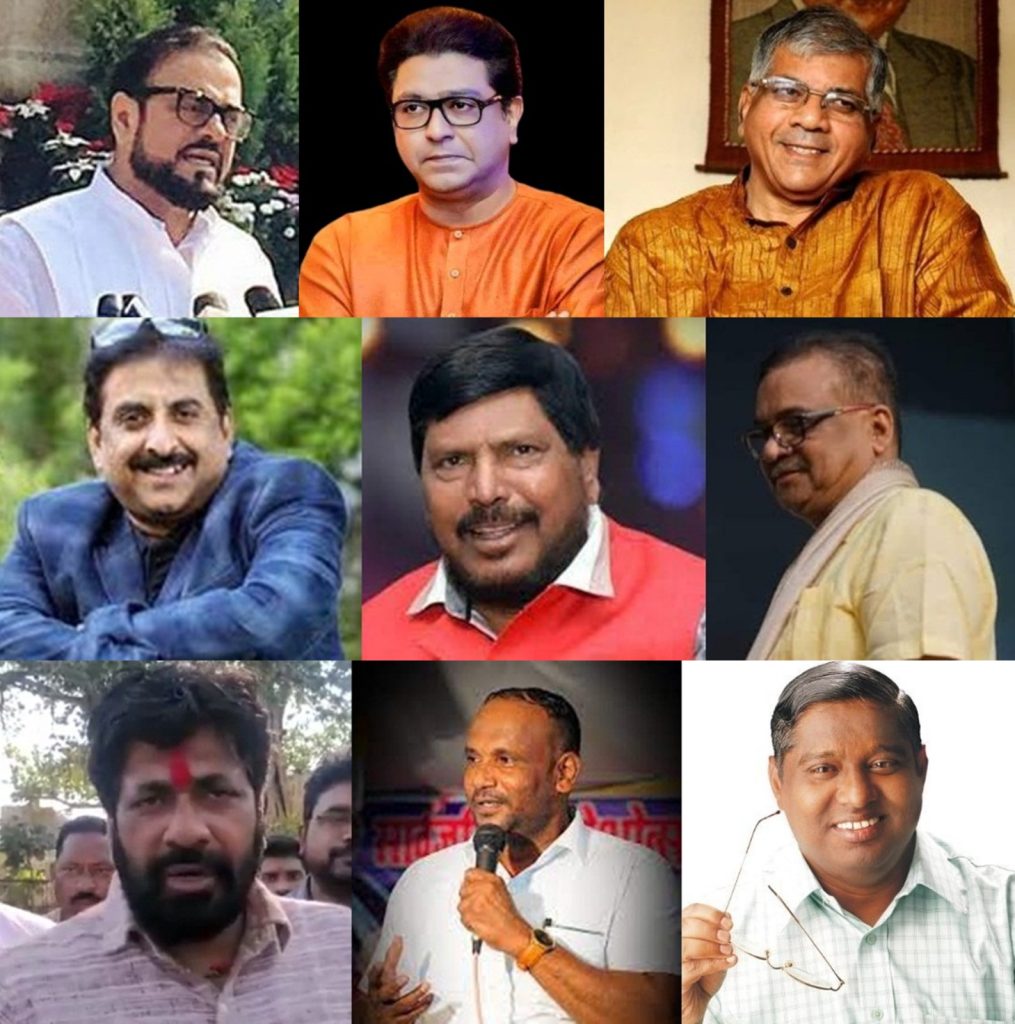 Quaid Najmi
Mumbai, July 22 (IANS) In the rainbow-coloured Indian democracy, hundreds of big and small political parties — representing varied ideologies, vote-banks, pressure groups or interests — seem to co-exist, including in Maharashtra.
There are the 'big fish', which singly or jointly with others, appear to rule the roost either at the national level or state levels, and there many 'small' or even 'tiny' fish which cling to one or the other groups to ensure their survival.
Maharashtra has a handful of big ones — the Bharatiya Janata Party, Congress, Shiv Sena, Shiv Sena (UBT), and the two factions of Nationalist Congress Party led by Sharad Pawar and Ajit Pawar.
The string of smaller ones comprises Bahujan Vikas Aghadi (BVA), Peasants & Workers Party (PWP), All India Majlis-e-Ittehadul Muslimeen (AIMIM), Republican Party of India (A), CPI (Marxist), Prahar Janshakti Party (PJP), Swabhimani Party, Samajwadi Party, Rashtriya Samaj Party, Jan Surajya Shakti (JSS), Maharashtra Navnirman Sena (MNS), and Vanchit Bahujan Aghadi (with no elected leader).
Of these, some have tagged onto the ruling Shiv Sena-BJP-NCP (AP), while the others are aligned with the Opposition Maha Vikas Aghadi of Congress-Shiv Sena(UBT)-NCP (SP).
The remaining are 'unattached', fence-sitters who jump whenever — or wherever — the grass is green, making them always suspect in the eyes of the bigger players.
Relegated largely to 'supporting roles', the bigger parties hope that occasionally the smaller comrades may help sway crucial sections of the voters like Dalits, farmers, women, workers, youth, etc., though it may not always work.
A small outfit leader feels that the arrangement suits both in the 'political numbers game' as every vote can make or mar a regime, citing the example of April 1999 — when then Prime Minister Atal Bihari Vajpayee lost power by a single vote in the Parliament.
"Hence, in the modern era, the ruling and opposition try to keep as many parties as possible on their side — the NDA at the Centre has around 38 parties while the other side has 26 — and there are quite a few 'unallied' ones around," he said.
Fortunately, Maharashtra has never encountered a 1999-like situation, but the latter arguments are valid as both the ruling and opposition parties vie to pocket as many small players as possible to 'look and sound' puffed up — irrespective of public sentiments.
Those who support the ruling side are also 'looked after' — ministerial berths, important cabinet-rank positions, other plum appointments, heading various organisations or small banks, domestic or foreign jaunts or other perks, hobnobbing with the top brass when there are 'double-engine' governments of the same party in the state and the Centre, etc.
One such example is Republican Party of India (A) President and Union MoS Ramdas Athawale — who has managed to remain with the ruling side always from 1990 — first with Congress till 2011, then hitched with Shiv Sena-BJP, picking up rewards like ministries at the state and Centre.
There's also Prahar Janshakti Party leader Bachchu Kadu, who became a minister in the MVA regime of ex-CM Uddhav Thackeray, but was not so lucky under the current CM Eknath Shinde.
Founded in 1948, PWP with its current General Secretary Jayant P. Patil, an MLC, has managed to retain its small stronghold with Lok Sabha or Rajya Sabha MPs, MLAs, MLCs regularly elected in its 75-year existence, either staying independent or aligning with the left-of-centre groups; once it even had a Leader of Opposition (1962-1972), and other important assignments.
The 17-year-old MNS of Raj Thackeray is yet to become a politically mature adult, and currently has a lone MLA, compared to an impressive 13 in 2009, largely due to the party's oscillating or vacillating stance at various occasions on different issues, and still away from the mainstream, its on the 'pavement'.
The CPI (Marxist), Samajwadi Party and AIMIM are branches of parties spread in multiple states but enjoy a pan-India image, and have several elected leaders at the local, state or national levels.
An NCP (SP) leader said that Maharashtra has always been a politically stable state, but this took a beating after 2019 owing to the belligerent BJP which was unwilling to stay out of power.
"They resorted to hijacking power (2-man, 80-hour regime of November 2019), then toppling the government (June 2022), breaking parties (Shiv Sena June 2022, NCP July 2023), weakening the allies while remaining ensconced with its own flock," he said, declining to be quoted owing to the current fluid scenario.
However, state Congress President Nana Patole has been more direct saying that people are fed up with the BJP's unprincipled politics and will show them the door in 2024.
Shiv Sena (UBT)'s Sanjay Raut targets directly — he has predicted on at least three occasions that "Shinde's days are numbered, Ajit Pawar will become the CM soon".
It remains to be seen for how long some of the smaller parties — which are publicly courted but privately cursed — remain relevant or continue to exploit the miniscule vote-banks for cornering privileges disproportionate to their influence.