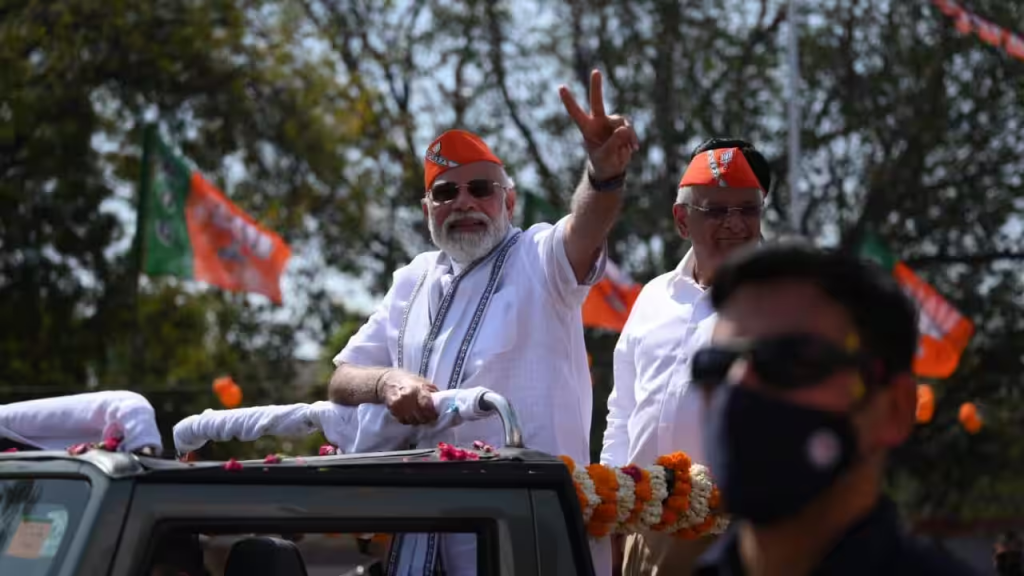 Janvi Sonaiya
Ahmedabad, July 16 (IANS) Following its triumph in the 2022 Gujarat Assembly elections and recognising significance of the state as a stepping stone towards its larger goals, the Bharatiya Janata Party (BJP), wasting no time, is convening flurry of meetings at party's state headquarters eyeing landslide victory in the 2024 Lok Sabha polls.
With ambitions running high, the saffron party has set a target of winning over 400 seats in the upcoming Lok Sabha polls, a significant increase from their victory in 2019 with 303 seats.
To achieve this feat, various BJP-linked groups such as the Mahila Morcha, Kisan Morcha, and Minority Morcha have been entrusted with the responsibility of reaching out to voters across the nation.
In Gujarat, the leader spearheading the charge is state BJP chief C. R. Patil, who played a pivotal role in the party's victory in the 2022 Gujarat elections. Patil has set an audacious goal, aiming to secure victory in all 26 Lok Sabha seats in the state with a substantial margin of five lakh votes each.
Prime Minister Narendra Modi places great trust in Patil's capabilities, whose strategy focuses not only on achieving a perfect score of 26/26, a feat accomplished by the BJP in both the 2014 and 2019 elections, but also on ensuring the Congress rivals perform so poorly that they forfeit their security deposits.
The party's vote share too increased as it secured 62.2 per cent of the votes polled, up from 60 per cent in 2014. Patil attributes his confidence to the "Modi factor" and the state's meticulous "page committees" that facilitate micro-level management of voters.
"Whether it's a district elections or Lok Sabha elections, we are always working hard. For us, the candidate is less important but the ultimate victory is important," said a BJP member.
The frequency of meetings at the Gujarat BJP headquarters, Kamalam, has surged since May 2023.
Paatil, in recent times, orchestrated individual meetings for party members hailing from Ahmedabad, Patan, and Sabarkantha districts. These gatherings witnessed the presence of approximately 300 district executive members, elected panchayat members, and other invitees. Similar district-wise meetings are scheduled in the near future.
The discussions during these meetings also revolved around the coordination of page committees with social media and associated activities. As the party gears up, these strategic sessions pave the way for effective communication and engagement.
In the 2019 elections, 15 BJP candidates won by a margin of over 3 lakh votes, a considerable increase from just six candidates in 2014. A victory margin of less than two lakh votes was recorded in only four constituencies – Dahod, Junagadh, Anand, and Patan. The highest victory margin in the entire country, surpassing even PM Modi's, was achieved by Patil in Navsari. With these achievements in mind, the BJP's confidence remains high as they gear up for the 2024 Lok Sabha elections.