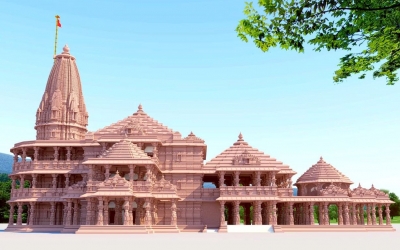 Ayodhya (UP), July 2 (IANS) Nearly five lakh temples across the country will hold various religious events, at least 10 days before pran pratishtha (idol consecration) of Ram Lalla at the Ram temple in Ayodhya.
According to Shri Ram Janmabhoomi Teerth Kshetra Trust general secretary Champat Rai, these events would include nama-sankirtan (congregational chanting of holy names) among others.
"The RSS has the experience to organise such large-scale events. Everyone cannot come to Ayodhya for pran pratishtha of Ram Lalla. The RSS is planning to organise nama- sankirtan and other events in around five lakh temples across the country," Rai told reporters.
"These events will start at least 10 days before the pran pratishtha of Ram Lalla. There are around 2.5 lakh gram panchayats and almost all of them have a temple. Another 2.5 lakh temples in localities in all districts across the country will hold these events to make the entire country 'Ram Maye' (full of devotion for Ram). The Trust will also give specific instructions that no event will be organised on roads or city crossings," he explained.
Members of the Trust are focusing on the arrangements to be made for lakhs of devotees who will visit Ayodhya for the idol consecration, which is proposed after Makar Sankranti on January 15, 2024. "Doordarshan will telecast the pran pratishtha live," said Rai.
"The Sikh community can organise path (of Guru Granth Sahib) in gurudwaras and the Jain community could organise events in their temples according to their culture," Rai said.