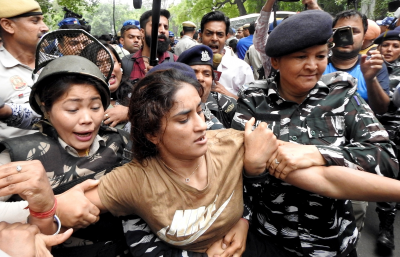 Mumbai, Oct 15 (IANS) The International Olympic Committee (IOC), which on Sunday added words supporting human rights and put in place processes for safeguarding athletes against abuse and harassment, asked the media to direct questions related to allegations of sexual harasment by Indian wrestlers to the sport's international body.
Asked what is its stand on the allegations by female wrestlers of sexual harassment against former president of the Wrestling Federation of India, Brij Bhushan Sharan Singh, an IOC spokesman said such questions should be directed to the international federation, the United World Wrestling in this case
"We are closely monitoring things but questions on this issue should be directed at the wrestling federation," said Mark Adams, IOC's Director of Media and Communications, during a press briefing at the end of the opening day of the 141st IOC Session here on Sunday.
Olympian wrestlers Bajrang Punia, Sakshi Malik and Vinesh Phogat had organised a protest at the Jantar Mantar in New Delhi seeking arrest of Brij Bhushan Sharan but the Bharatiya Janata Party (BJP) Member of Parliament has not been arrested by Delhi Police, which conducted a probe into the allegations. Instead, Delhi Police had taken action against the protesting wrestlers and even detained some of them. The United World Wrestling, which had supported the wrestlers and sought a proper investigation and action in this case, has suspended Wrestling Federation of India for not conducting elections in time.