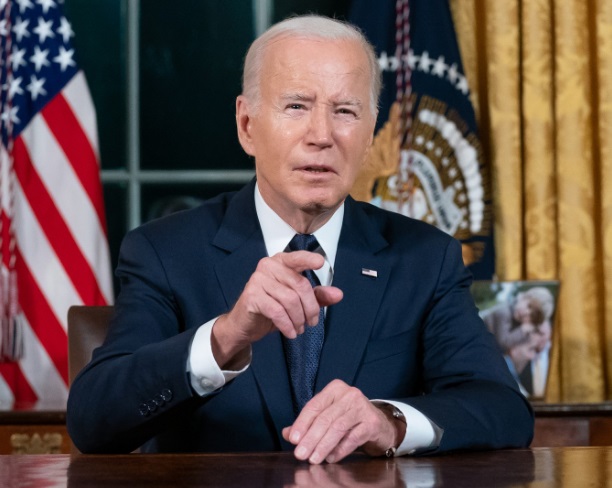 Yashwant Raj
Washington, Oct 23 (IANS) Wearing a light blue sweater, President Joe Biden made a rare appearance in the press section of Air Force One on the way back from the Middle East earlier this week. It was to declare that his mission for the trip had been accomplished.
"I just got off the phone with President Sisi of Egypt," he said to reporters as they scrambled to gather their notebooks and recorders. He was referring to President Abdel Fattah al-Sisi of Egypt, with whom he had just wrapped a 30-minute phone call. "He agreed that what he would do is open the gate on — to do two things: one, let up to 20 trucks through to begin with."
Al-Sisi, who had cancelled a meeting with Biden, had agreed on the call to allow trucks carrying humanitarian aid cross into Gaza from Egypt. Twenty of them at first, going up to 150. Biden chalked it up a win from the trip, which, as he would point out later, was the first undertaken by a serving American President to a war zone after Abraham Lincoln.
Biden's administration had displayed a complete embrace of Israel on its war with Hamas after the October 7 attacks. It was first underscored by Secretary of State Antony Blinken who was in the region within days, followed by Secretary of Defense Lloyd Austin.
Biden followed up shortly. It was supposed to be a major visit with meetings scheduled with the leaders of all the major players in the region.
While he was on the way, a hospital in Gaza suffered a bomb hit in which hundreds of people died, changing the dynamics completely.
Hamas blamed the bombing on Israel, which has blamed it on a dysfunctional missile fire by the Islamic Jihad — and the Arab world erupted in outrage. Leaders of Egypt and Jordan — both of which are recipients of substantial US aid annually — cancelled their meetings with the American President.
Biden's visit suffered a shock even before it had started. "Look, I came to get something done. I got it done," he told reporters when asked if he was disappointed by the cancellations. "Not many people thought we could get this done, and not many people want to be associated with failure."
While Biden was able to persuade al-Sisi to allow humanitarian aid pass through Egypt, he was also able to convince the Israelis all relief material into the area, dropping their resolve to not allow any aid in till the hostages taken by Hamas terrorists were freed.
It couldn't have been easy to persuade Israeli leaders to change their strategy, especially when emotions were still high and raw.
Israel's Channel 12 reported that Defense Minister Yoav Gallant told a Knesset committee, regarding aid to Gaza before the release of hostages, "the Americans insisted and we are not in a place to refuse them. We rely on them for planes and military equipment. What are we supposed to do? Tell them no?"
Pressed by reporters if the Israelis had pushed back on humanitarian aid, the US President said: "I got no pushback."
The US President has set the Israel-Hamas conflict front and center in this foreign policy, along with Ukraine, arguing they represent a threat to the national security of the United States.
A growing number of Americans' are questioning continued US funding of the war in Ukraine and many, including some Democrats, are critical of Biden's close embrace of Israel.
"Let me share with you why making sure Israel and Ukraine succeed is vital for America's national security," he said in an address to the nation on Thursday. "You know, history has taught us that when terrorists don't pay a price for their terror, when dictators don't pay a price for their aggression, they cause more chaos and death and more destruction. They keep going, and the cost and the threats to America and to the world keep rising."
In the same speech Biden said he was asking Congress for extra funding for these and other national security challenges. Of the extra $105 billion he is seeking, $60 billion is meant for Ukraine, $14 billion for Israel and $14 billion for securing the border with Mexico.