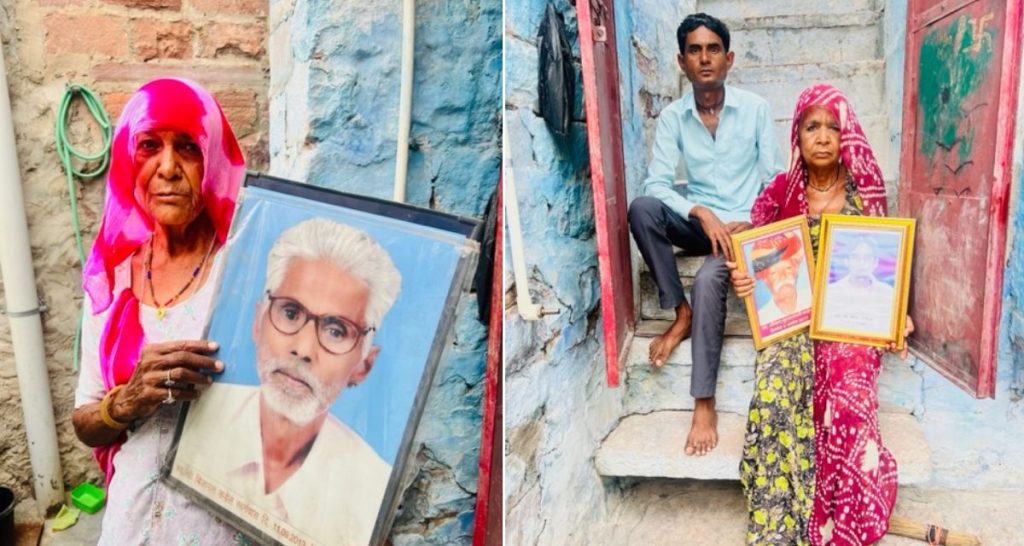 Dinesh Bothra
Jodhpur (Rajasthan), July 17 (IANS/ 101Reporters) A resident of Gandero ki Dhani near Jodhpur city, Dhalki Devi Kadela (60) spends her days gazing at the photographs of her late husband and son. In 2017, she lost her husband to silicosis, a disease caused by sandstone mining. Her son Ramesh (34) succumbed to the same illness last December. Now, another son Dungarram (36) has been diagnosed. He experiences shortness of breath on climbing just four stairs.
"Ramesh toiled in the mines for 13 years. We never thought he would leave us so soon. His son Manish is only eight. The weight of debt looms over us. I do not know how we will manage household expenses," Dhalki says tearfully.
Jodhpur is home to 5,900 sandstone quarries across several villages, including Soorsagar, Fidusar, Balsamand, Mandore, Keru, Badli, Ghoda Ghati and Bhuri Beri. As highlighted in the research paper titled Jodhpur Sandstone: An Architectonic Heritage Stone from India, the stone with its characteristic reddish brown/maroon tint has been in use for over 1,500 years, which stands as a testament to its durability, timeless appeal and high demand.
Quarrying and extraction of sandstone in and around Jodhpur have increased significantly, as indicated by Google Maps for the years 2008, 2013 and 2018, says the research paper. Due to the small size of quarries and their close proximity to each other, simultaneous mining operations lead to pervasive clouding of the entire area with dust. The workers inhale silica-laden dust all the time, which leads to silicosis, a debilitating condition that damages the lungs, causes respiratory distress and eventually death.
Shanti Devi Kadela (61) of Gandero ki Dhani faces the same fate as Dhalki. Her husband Binjaram died of silicosis in 2013. Three of her daughters are now married, while sons, Sundar and Magaraj, work in the mines. Another son Bhanwarlal succumbed at the age of 35.
"We do not know if Bhanwarlal also had silicosis. The cause of his death could not be determined as medical facilities were not accessible due to the Covid-19 outbreak. The other two work in the mines as repaying money borrowed from the mine owner is a big challenge. I am well aware of the risks, but we do not have an option," laments Shanti.
Ironically, there are no facilities to test or certify silicosis in the mining area. Workers have to travel 15 km to reach the Kamla Nehru Chest Hospital in Jodhpur city for even preliminary check-ups.
There are only 35 houses at Bheel Basti in Sodhon ki Dhani village, but it has at least 25 'silicosis widows'. Sharing her story, Puppu Devi Bheel (45) says, "When my husband Pancharam died in 2016, I had no option but to work in the mines to raise our six children. Two of my daughters and one son are married now. We received the government aid upon my husband's death, but it was spent on marriages of my daughters."
She adds that several residents of the colony died while working in the mines. "Many of them were not officially tested for silicosis, but we know all of them had difficulty in breathing," she reveals.
Streamlining the system
In his research paper titled Silicosis – An Ancient Disease: Providing Succour to Silicosis Victims, Lessons from Rajasthan Model, Prahlad K Sishodiya, a former director of the National Institute of Miners' Health (NIMH), Nagpur, says, "It was series of reports on detection of silicosis among sandstone mine and stone carving workers in Karauli, Dausa and Dhaulpur districts based on medical records of workers, by National Institute of Miners' Health, Nagpur, under Ministry of Mines, which drew attention of the state government and media… The reports indicated high prevalence of silicosis varying from 38.4 per cent to 78.5 per cent in Karauli district among sandstone mine workers and 100 per cent prevalence among (those) who worked for more than 20 years in stone mines."
The reports prompted the Rajasthan State Human Rights Commission (RSHRC) to take suo moto action, following which the government formulated the Rajasthan Policy on Pneumoconiosis including Silicosis Detection, Prevention, Control and Rehabilitation-2019, which made silicosis grant disbursement a flagship scheme. The Building and Other Construction Workers' Welfare Board and Mines Department also initiated relief programmes for silicosis patients and dependents.
Before 2019, based on the NHRC recommendations, the state government made an ex-gratia payment of Rs 1 lakh to silicosis/asbestosis patients and Rs 3 lakh to the dependents of the deceased from the Rajasthan Environment Health Cess Fund. Starting 2019, ex-gratia to the patients/dependents are disbursed from the District Mineral Foundation Trust (DMFT) fund.
In 2021-22, Jodhpur district managed to collect Rs 1,907.17 lakh under the DMFT fund. However, only Rs 222.57 lakh could be utilised to improve the conditions in mining areas in that fiscal. Shyam Kapri, a mining engineer in Jodhpur, acknowledges that a significant portion of the DMFT fund is allocated towards ex-gratia payments. "At times, additional funds have to be sourced from the state to pay ex-gratia. As a result, the allocation of funds for other priority sectors under the DMFT becomes less apparent and visible."
According to the silicosis portal, 31,419 certified silicosis patients in Rajasthan have received ex-gratia, including 7,526 in Jodhpur district. However, 477 certified patients in the state, including 52 from Jodhpur, are yet to receive the payments. As for dependents, ex-gratia have been disbursed to 6,353 in the state, including 1,482 in the district.
Conversations with mine workers and dependents throw light on how they resort to borrowing money from either the mine owner or moneylenders by using their movable and immovable property as collateral.
"My husband's treatment lasted seven years, which forced me to turn to moneylenders. I still have Rs 80,000 to pay, but work at the mine earns me only Rs 250 a day. Both my sons attend government school, and I aspire to provide a good education so that they do not have to work in the mines," says Pushpa Kataria (36), who lost her husband Shrawan Kumar Kataria to silicosis last November.
Explaining the procedures to get silicosis aid, State Nodal Officer for Silicosis Control Programme Ashok Jangid tells 101Reporters that the government launched a web portal in 2019 to ensure transparent disbursement of assistance. "After applying, the patient has to undergo primary check-up, screening and examination by the medical board. Once a patient gets silicosis certification, Rs 3 lakh will be provided as assistance. The dependents are eligible for Rs 2 lakh in case of a patient's death," he explains.
Ghewar Bhati, an e-Mitra kiosk operator in Gandero ki Dhani, says the applicants have to register for financial aid using their Jan Aadhaar card. "The process of allotting the amount to a dependent start as soon as the application is made, as the silicosis victim's death certificate would already be linked with Jan Aadhaar.
Who is to blame?
The Directorate of Mines and Geology estimates the number of mine workers in the state to be around 25 lakh. In Jodhpur district, nearly 12,000 quarry licences for sandstone mining have been issued, with 5,900 located close to Jodhpur city.
Estimating the number of mine workers in the unorganised sector is a big challenge. "Four to five workers are employed in every quarry surrounding Jodhpur, which means at least 25,000 unorganised labourers. They mostly reside in temporary settlements near the mines as it offers convenient access to employment opportunities," Rana Sengupta, the managing trustee of Mine Labour Protection Campaign Trust, tells 101Reporters.
Dr MK Devarajan, a former member of the RSHRC, tells 101Reporters that the disease could have been contained to a great extent if the mine owners and government officials had implemented the provisions of the Mines Act, 1952, the Mines Rules, 1955, and Metalliferous Mines Regulations, 1961. "Knowingly or unknowingly, the government officials have abetted the criminal negligence of mine owners."
"The state government has issued leases to several small mines. For example, sandstone mines with 30 m x 60 m lease size function in Jodhpur district, while Makrana has marble mines of 15 m x 20 m. While this promotes equitable distribution of leases, it poses a herculean task for regulatory agencies such as the Directorate General of Mines Safety to enforce safety provisions effectively," says Devarajan, who had submitted the 2014 special report on silicosis.
Devarajan thinks providing biometric identity cards with details of the mine workers' employment record and medical history is of utmost importance. "Mandatory medical examinations at the time of employment and periodical follow-ups, as prescribed by the Mines Act and the Factories Act, should be extended to contract and casual labour in hazardous occupations."
At present, the absence of employment records prevents most of the sandstone workers from filing for compensation before the labour courts. "Even if mandatory legal provisions are fully enforced on mine owners, it is unlikely that most workers, who often work as contract or casual labourers and move between mines for employment, will be able to seek compensation. Mine owners frequently resort to 'outsourcing' to evade legal liability," he points out.
Undoubtedly, unorganised workers suffer as they do not have an alternative before them. As Bheel Basti-based Vimla Bheel (34), whose husband died two years ago, puts it, "No one willingly chooses this job, given the looming threat of death."
(Dinesh Bothra is a Rajasthan-based freelance journalist and a member of 101Reporters, a Pan-India network of grassroots reporters)