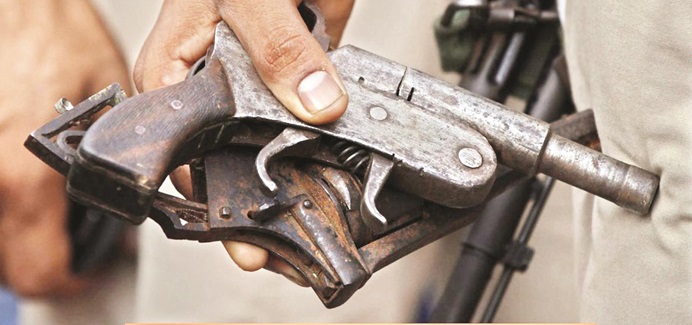 Shekhar Singh
New Delhi, July 2 (IANS) Brandishing revolvers, stealing at gunpoint, shooting victims in broad daylight, highlights the rising phenomena of gun culture in the national capital.
The use of illegal weapons has increased over the last decade. Gone are the days when only the mafia and narcos used guns, now even petty thieves and snatchers involved in street crime use guns to commit crimes and get away unchallenged in and around the city.
According to a senior police officer of the Special Cell, the arms suppliers in Rajasthan, Mewat in Haryana and UP's Meerut and Aligarh and Madhya Pradesh dispatch the illegal weapons to areas like Najafgarh, Rohini, Narela and North East Delhi and from there these are distributed among criminals..
"The outer Delhi area as a hub of illegal gun trade has seen a rise owing to its easy connectivity by bus routes. Gun peddlers of UP, Rajasthan and Haryana supply illegal weapons to criminals in the city as commuting to Delhi is not that tough. These arms smugglers also use two wheelers and they create special cavities in cars to smuggle countrymade pistols," said the police official.
This was evident in the recent armed robberies, snatchings, burglaries, house thefts, kidnappings among other crimes in the past few months in the national capital, raising concerns about the security, safety and police presence in the city.
The weapons smugglers with different modus operandi supply these weapons after transporting them either in the cavities in scooters, cars or in milk containers and bags among others. And now they are using social networking applications to contact each other and evade the police.
From changing buses to deliver consignments, the arms suppliers have been keeping the police on their toes.
A senior police officer involved in identifying these gun runners said that the mushrooming of hundreds of illegal arms units on the city's outskirts and in neighbouring towns, has made it quite easy for the criminals to procure country made weapons.
"In Western Uttar Pradesh and Rajasthan, gun manufacturing and then supplying to gangs has become an organised industry. The factories make every part, from butts to side covers, barrels and triggers using grinding machines, hand-powered drills and welding machines", said the officer.
"From simple kattas (crude handguns) to sophisticated automatics, everything's available for a price that ranges from Rs 4,000 to Rs two lakh. While the more sophisticated weapons are made at factories in and around Munger in Bihar, the crude ones are made across UP and now in Rajasthan also. Meerut, Bulandshahr, Rampur, Etah, Aligarh and Mainpuri district in UP, Bharatpur and Kama in Rajasthan, Dhar in Madhya Pradesh are the main suppliers of countrymade arms to Delhi and its peripherals," said the officer.
Earlier this month, a 35-year-old man, who supplied arms and ammunition to criminals in Delhi on the directions of the Hashim Baba gang was arrested and a total of 12 semi-automatic and single shot pistols along with 55 bullets were recovered from his possession.
The accused, identified as Imran alias Amjad (35) and a resident of Seelampur area, used to purchase one automatic pistol for around Rs. 40,000 and sell it for Rs. 50, 000-Rs 55,000.
Last month, the Police had arrested two men and claimed to have busted an inter-state gang supplying illegal arms and ammunition to criminals and gangsters in Delhi and its peripherals
The Police also recovered 12 countrymade pistols of .32 bore from the possession of the accused. Both the accused persons have been arrested from Delhi and they were supplying illicit weapons to gangsters of Delhi-NCR, UP West and Rajasthan for a very long time.
"The accused used to procure illicit pistols for Rs 10,000 to Rs 12,000 per piece and sell the same to criminals of Delhi-NCR, UP West and Rajasthan for Rs 35,000 to Rs 50,000 per pistol," said the official.
In the first week of March, the police had arrested a 57-year-old man supplying illegal firearms to criminals in Delhi and its neighbouring areas. The Police recovered 12 countrymade pistols from his possession.
In January the Delhi Police arrested three men and busted an inter-state module of an illegal arms syndicate run by a Madhya Pradesh based illegal firearms manufacturer-cum supplier.
The Police said that the accused had supplied more than 200 pistols in the national capital in the last five years.The Police also recovered 12 pistols and 15 bullets from the possession of the accused.
According to data, last year 4,266 people were arrested for illegal possession of firearms or gun violence, however in 2021, a total of 3,527 had been arrested.
A total of 3,693 cases under the Arms Act were registered last year while 2,923 cases were registered in 2021, a rise of 26 per cent.