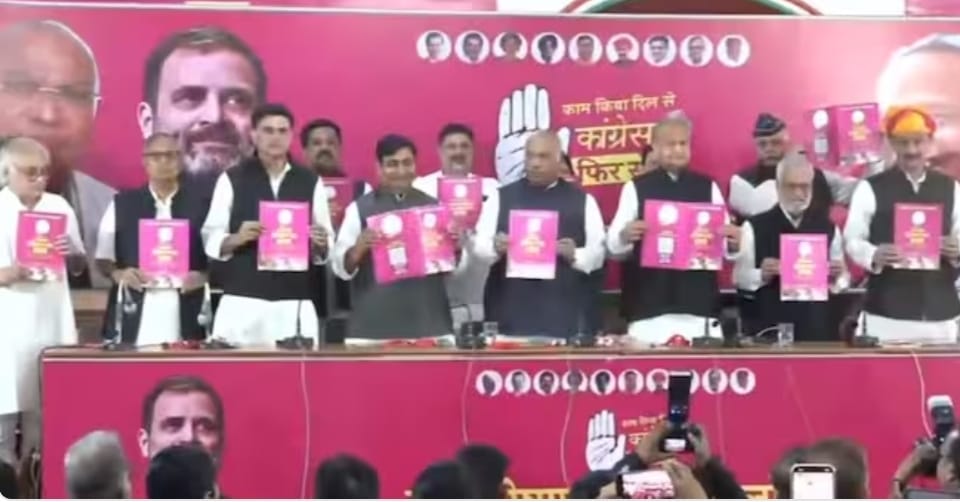 Jaipur, Nov 21 (IANS) Congress on Tuesday released its manifesto for the Rajasthan Assembly elections promising caste census, MSP law for farmers, Right to Housing Law, law for Old Pension Scheme (OPS) and reservation for minorities.
Under its minority welfare measures, the Congress has mentioned in its manifesto that it will give reservation according to population. "After caste census, we will undertake to provide reservation as per their population.
The other key points of the manifesto, as released by party president Mallikarjun Kharge, are — MSP law for farmers as per the recommendations of Swaminathan Committee.
Caste census will be conducted.
Law to keep the Old Pension Scheme going on.
The amount of Chiranjeevi insurance will be increased from Rs 25 lakh to Rs 50 lakh.
Four lakh youth will be given government jobs. 10 lakh youth will be given employment.
A new cadre of government jobs will be created at the Panchayat level.
Gas cylinder is currently available for Rs 500, it will be reduced to Rs 400 for BPL, NFSA and Ujjawal beneficiaries.
By bringing RTE law in the state, education up to 12th will be made free in private educational institutions also.
MNREGA and Indira Gandhi urban employment will be increased from 125 to 150 days.
Merchant Credit Card Scheme will be started to provide interest free loans up to Rs 5 lakh to small traders and shopkeepers.
Government employees will be given fourth pay scale series along with 9,18,27 and officers will be given apex scale.
Villages and hamlets with a population up to 100 will be connected by road.
Security guards will be deployed in every village and urban ward.
Housing will be given to everyone by bringing a Right to Housing law.
The schemes already running will be further strengthened.
Kharge said that all points of the manifesto will be implemented. Attacking BJP, he said, "Those (BJP) people promised 15 lakh jobs. Did you get it? "
He also questioned the BJP government over ignoring farmers' needs.
Repeating his stand, he called PM Narendra Modi as the "head of lairs" and said that he has been making false claims but Congress has been practicing what it says.