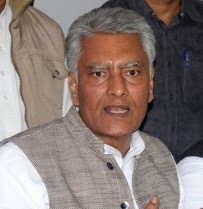 Chandigarh, Aug 9 (IANS) Punjab unit BJP president Sunil Jakhar on Wednesday said the true face of abysmal employment situation in the state has been exposed by fact that the candidates lining up for post of sewerman include civil engineers and MCA postgraduates.
"Educated youngsters are today standing in Hoshiarpur to join as sewerman," Jakhar said, while the Chief Minister literally daily eulogises about "revolutionary" improvement in job scenario under his watch.
Jakhar was speaking at a ceremony at BJP office here.
Urging the government to open its eyes to the reality on ground, he said Punjabis have realised their mistake of choosing this government and they will collectively teach AAP a lesson in Parliamentary polls next year.
"People are waiting for a chance to throw this regime out," Jakhar said, adding the Bhagwant Mann government is only indulging in propaganda by splurging public money.
"We have seen what Punjab has to endure during floods because of non-existent administration," Jakhar pointed out.
Earlier, while welcoming ex-chairman of Punjab Brahmin Sabha and Akhil Bhartiya Brahmin Federation Kishor Chand Sharma's grandson Rajveer Sharma, former Fazilka district Congress head Ranjan Kamra, Backward Classes Commission former senior vice-president Sukhwinder Singh Kaka Kamboj into the BJP fold, Jakhar said every "BJP activist is steadfastly working for betterment of Punjab".
"I am certain that with your presence, the party is bound to get stronger," Jakhar said adding that people from all walks of life are joining the party in Punjab.
"No job is big or small but if educated youngsters have to choose for jobs not in line with their high education, it is a matter of concern," Jakhar said.
Expressing his concern over the prevailing law and order situation in Punjab, Jakhar said earlier gangsters used to target big businessmen but now the situation is such that a sarpanch in a small village of Maur has got a ransom call of Rs 50 lakh.