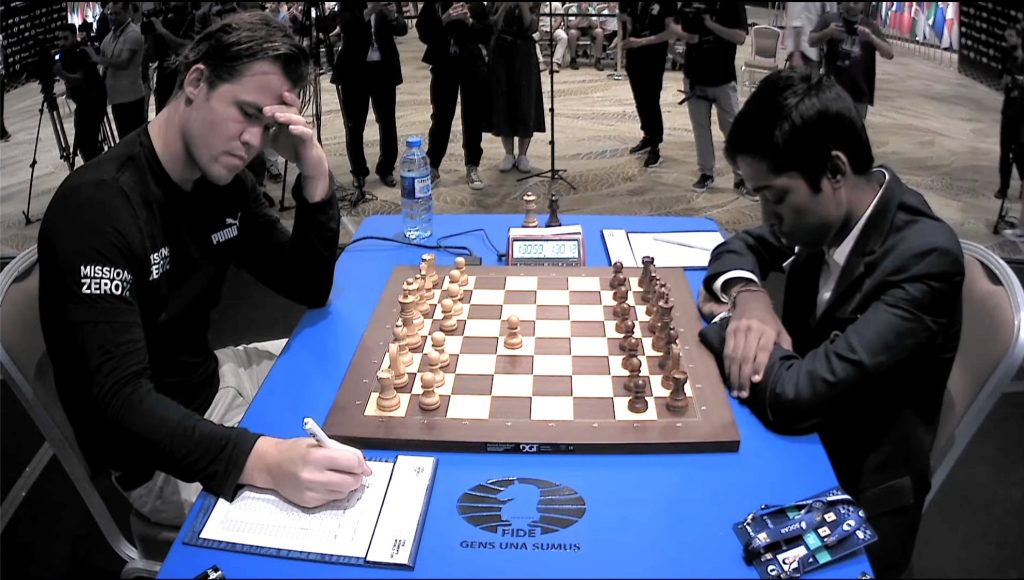 Baku (Azerbaijan), Aug 23 (IANS) India's 18-year-old Rameshbabu Praggnanandhaa played out a 30-move draw with World No.1 Magnus Carlsen in the second game in their two-game final in the FIDE World Cup here on Wednesday, taking the summit clash into the tiebreaker.
Praggnanandhaa, who was held to a draw with white pieces in the first game on Tuesday, held the Norwegian five-time World Champion in Classical Chess to another draw, this time with black pieces, as they remained tied 1-1 after two games.
The second successive draw means, the two players will come back to the board on Thursday to play shorter games in the tiebreaker to decide who wins the World Cup. If he wins, Carlsen will claim his first World Cup title while Prggnanandhaa is hoping to become the youngest winner of the World Cup by claiming his maiden title.
The World Cup final will now be decided on Thursday via rapid chess tiebreak games with the players having 25 minutes each with an increment of 10 seconds per move in the first two games. In case the tie is still not resolved, they will play two more games with shorter time control — 10 minutes for each player with 10 seconds added to the clock after every move. If the tie persists, they will next two more tiebreak games with five minutes for each player with three seconds added to their clock after each move. In case, the issue is not resolved even then, they will play unlimited games with each player with three minutes each on the clock with two seconds added to their respective clock after every move till one of them wins the mini-match.
In the second classical game on Wednesday, Carlsen opted for the Four Knights Variation in Spanish Opening to which Pragg responded with precise moves.
Carlsen, the 32-year-old five-time World Champion from Norway, offered an early exchange of knights and his 18-year-old rival from Chennai accepted it. After an exchange of a few more pieces, they reached an equal position.
Neither of them managed to gain any advantage as they reached an equal endgame. Carlsen usually likes to play such positions, slowly chipping around the opponent's defence and getting him to make mistakes.
But in recent times, he has expressed his preference for shorter games of 1-2 hours to decide the outcome instead of playing for 5-6 hours.
Another reason why Carlsen did not press for victory was that he was not 100 per cent fit, still recovering from food poisoning. He said he was feeling a little better on Wednesday, but he was still low on energy.
Though Carlsen, a four-time World Rapid Chess Champion, fancies his chances in the faster time controls, on Wednesday, he said Praggnanandhaa could not be taken lightly as he has played more tie-break games in this event.
"Praggnanandhaa has already played a lot of tiebreaks against very strong players…I know he is very strong. If I have some energy, if I have a good day, obviously I will have good chances," he told the official FIDE broadcaster after the game on Wednesday.
Carlsen also thanked the International Chess Federation (FIDE) and the doctors provided by the local organising committee for helping him recover from food poisoning:
"I am very grateful to the organisers, FIDE and the doctors and nurses, who got me some good treatment. Today, I am feeling a bit better, but I still didn't feel like I had the energy for a full fight, so I thought, let's get one more day of rest. Hopefully, I will have more strength tomorrow," said Carlsen.
On his part, Praggnanandhaa said he did not think Carlsen would go for a quick draw on Wednesday.
"I didn't really think that he would go for a quick draw today, but I realised when he went for this line that he wants to make a draw; I was also fine with that. I also feel exhausted, as I said in the previous interviews. Now I can just give everything tomorrow and relax after that," said Praggnanandhaa.
Praggnanandhaa said he did not feel Carlsen was unwell, though he did not think the Norwegian had a lot of energy.
"I didn't feel he had a lot of energy; I didn't think he was unwell. I hope he recovers for tomorrow," he said. Both players have already qualified for the 8-player Candidates Tournament next year, the winner of which will challenge reigning World Champion Ding Liren in the World Championship match. Carlsen has pulled out of the last World Championships cycle, refusing to defend his title.