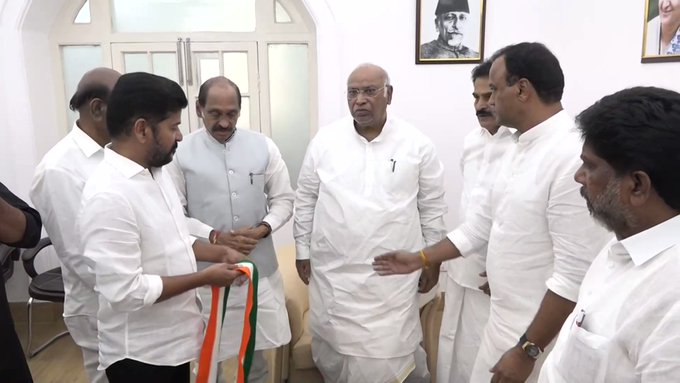 Hyderabad, Oct 27 (IANS) In a major boost to the Congress in Telangana ahead of next month's Assembly elections, eight leaders from ruling BRS and BJP joined the party on Friday.
Former MP Komatireddy Raj Gopal Reddy, who quit the BJP two days ago and former minister and BRS leader Motkupalli Narasimhulu were among the leaders who joined the Congress in the presence of Congress President Malliakrjun Kharge in Delhi.
General Secretary K.C. Venugopal, incharge for Telangana, Manikrao Thakre, state unit President A. Revanth Reddy and CLP leader Mallu Bhatti Vikramarka were present.
Other leaders who joined the Congress are former MLA Enugu Ravinder Reddy, former MLC Nethi Vidyasagar, former MLC Santosh Kumar, former MLC Akula Lalitha, former MLC Kapilawai Dilip Kumar and Neelam Madhu.
It's a home coming for Raj Gopal Reddy, who had quit the Congress to join the BJP last year. He had also resigned from the Assembly to force a bypoll but failed to get re-elected on BJP ticket.
A former MP, Raj Gopal Reddy is the brother of Congress MP Komatireddy Venkat Reddy. His return will further strengthen the Congress in undivided Nalgonda district.
Narasimhulu was a TDP MLA from the Tungathurthi constituency but parted ways with the party in 2018. He had joined the BJP but quit the party in 2021 to switch loyalties to the TRS (now the BRS). Narasimhulu, who was unhappy with BRS P:resident and Chief Minister KCR for denying him ticket, had called on Karnataka Deputy Chief Minister D.K. Shivakumar in Bengaluru on September 29.
At least a couple of those who joined the Congress on Friday are likely to get the tickets to contest the November 30 election. The latest joining have further boosted the morale of the party, which is confident of wresting power from BRS. Following the victory of Congress in Karnataka elections, several leaders from the BRS have defected to the Congress.
They included former minister Jupally Krishna Rao and former MP Ponguleti Srinivas Reddy. Both have been fielded.
The Congress has already announced candidates for 55 out of 119 Assembly seats and announced another 45 on Friday.
After the BRS announced candidates for 115 seats in August, the sitting legislators and aspirants who were denied tickets had started looking at Congress. Sitting MLA Mynampalli Hanumantha Rao, who was renominated by the BRS from Malkajgiri constituency in Greater Hyderabad, quit the BRS as the party had denied ticket to his son Rohith from Medak. The father son duo joined Congress and both have been included in the first list of candidates. Another key leader who quit BRS and joined Congress is former minister Tummala Nageswara Rao.
MLC Kasireddy Narayan Reddy was also rewarded with a ticket from Kalwakurthy barely a month after he resigned from the BRS to join the Congress. He switched loyalties after BRS leadership had ignored his demand for the ticket and decided to retain sitting MLA G. Jaipal Yadav. Another defector who managed to get a Congress ticket is Sarita Thirupathaiah. A former chairperson of Gadwal Zilla Parishad, she had quit BRS to join Congress recently.