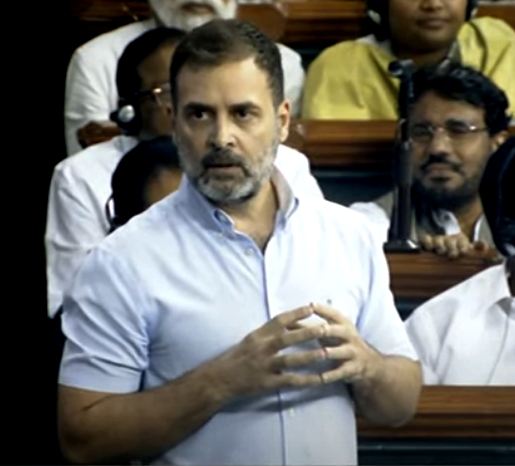 New Delhi, Aug 9 (IANS) Former Congress president Rahul Gandhi on Wednesday said that the BJP's politics has "murdered" 'Bharat Mata' (mother India) in the northeastern state and the arrogance of Prime Minister Narendra Modi will burn the entire India.
He also asked why the government is not deploying the Army which can bring normalcy in the state within a few days. He also accused the Prime Minister of dividing Manipur and thus he was unable to visit the northeastern state.
After participating in the no-confidence motion discussion in Lok Sabha, Rahul Gandhi, whose membership was reinstated on Monday, in a tweet said:
"Today BJP has sprinkled kerosene on the whole country. Sprinkled it on Manipur, set it on fire, Sprinkled on Haryana, that too is burning. They are busy burning the whole country. They are not the protectors of 'Bharat Mata', they are the murderers of 'Bharat Mata'.
Speaking in Lok Sabha he also slammed the Prime Minister for not visiting Manipur and alleged that he does not consider the state to be part of India.
The Congress leader also dubbed the BJP government as "anti national" and its leaders as anti-national and traitors, and took a pot shot at the Prime Minister for dividing Manipur into two parts.
In his no-holds barred attack against the government in his 37-minute speech, Rahul Gandhi said, "BJP's politics has murdered India in Manipur. They have killed India in Manipur. They have murdered India in Manipur."
"My mother is sitting here. The other mother, Bharat Mata, you killed in Manipur," he said, pointing to Sonia Gandhi who was also present in the Lok Sabha.
He also targeted the Prime Minister for not visiting Manipur and said: "When I said that India is a voice of people, the heart, that voice has been murdered in India. It means Bharat Mata has been killed in Manipur. By killing the people of Manipur you have murdered Manipur. You are anti-national as you have killed Bharat Mata (mother India).
"And it is the reason why your Prime Minister cannot go to Manipur as he has killed India in Manipur and in the hearts of the people of Manipur," he said.
He also said that you (BJP) have killed Bharat Mata in Manipur and till the time you don't stop violence you are murdering India.
"The armed forces can bring normalcy in one day but you are not using it as you want to kill India in Manipur. If Modi cannot listen to the hearts of people of India…," he said.
"I used the Manipur word, but today's truth is that Manipur is no more as it has been divided into two and you have broken it. I visited relief camps in Manipur and spoke to women there," he said, with disruption from the Treasury Bench members.
The Congress leader recounted the ordeal of the victims of the Manipur violence and said: "I asked a woman, 'What happened to you?' She said, 'My small son, an only child, was shot before my eyes. I spent the whole night with the dead body of my child and then I felt afraid. I left my house'. I asked her if she had brought along something with her and she said only the clothes she was wearing and a photo."
Besides Manipur, the Congress MP also referred to the recent violent clashes in Haryana's Nuh and said: "Lanka was not burned by Lord Hanuman but it was burned by the arrogance of Ravana. Ram did not kill Ravana but the arrogance of Ravana killed him.
"You are sprinkling kerosene in entire India. You sprinkled kerosene in Manipur and then you ignited it. Now you are doing that in Haryana. You are trying to burn the entire India and you are trying to kill India," he alleged.
He also said that the country is a voice. "This country is the voice of people, their pain, and their hardships. And if we have to listen to the voice then we have to wipe the arrogance, desires, dreams. When we remove our dream then only we can listen to the voice of India," he said.
"Now you will ask why you kept this in a no-confidence motion? Because if we have to listen to the voice of India then we have to remove the hatred," Rahul Gandhi explained while discussing his experience from the Bharat Jodo Yatra from Tamil Nadu's Kanyakumari to Jammu and Kashmir's Srinagar.
The no-trust motion has been brought by the Congress on behalf of the opposition bloc of the Indian National Developmental Inclusive Alliance (INDIA). The debate was initiated on Tuesday by Congress Lok Sabha MP Gaurav Gogoi.
It will conclude with the Prime Minister's reply on Thursday.