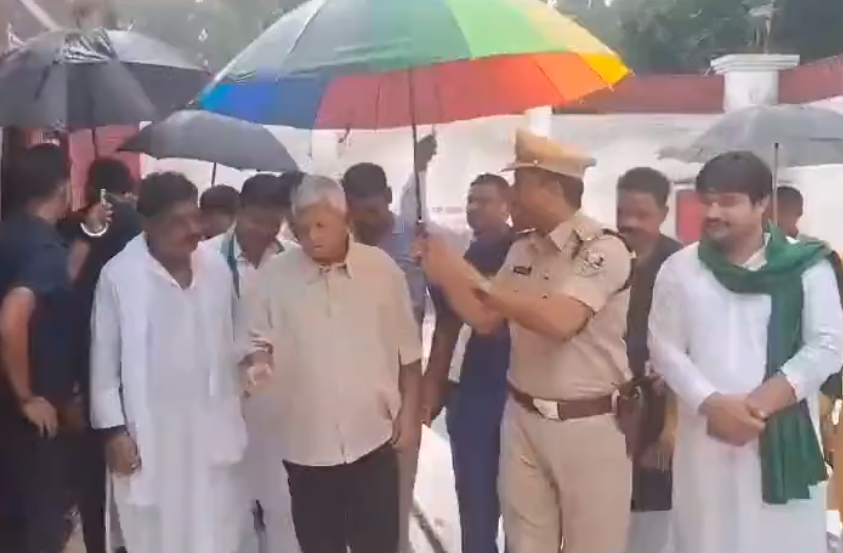 Patna, Aug 22 (IANS) After a Sub-Divisional Police Officer (SDPO) of Gopalganj district held an umbrella for Lalu Prasad Yadav, BJP launched a scathing attack on the Nitish Kumar-led government.
The incident happened in Lalu Prasad Yadav's native district Gopalganj, where RJD Chief along with his family are on a visit. Walking in his native village Phulwaria, a SDPO rank officer Anurag Kumar held an umbrella for Lalu Yadav to avoid getting him drenched in rain.
After the video of the incident went viral on social media, BJP senior leader and Rajya Sabha MP Sushil Kumar Modi sharply reacted to it.
"When Lalu Prasad Yadav was the chief minister of Bihar, the IAS officers were holding spitting pots for him. This time, a SDPO rank officer held an umbrella for him. This is the good governance of Nitish Kumar. Can he dare to take action against the SDPO? Modi asked.
BJP state president Samrat Chaudhary said: "The leaders of JD-U were using the word "registered criminal" for Lalu Prasad Yadav in the past. Now, he is roaming like a king in Bihar and DSP is escorting him with the umbrella. This is the real good governance of Nitish Kumar. In future, DM and SP will also walk behind Lalu Prasad holding an umbrella."
SDPO Anurag Kumar has said that he was there for the security of Lalu Prasad Yadav, in the Thawe temple, when rain came in.
"I was protecting my weapon to avoid getting wet and hence used the umbrella. The SP and DM of the district directed me for the proper security of the former chief minister. Hence, I was performing duty. As there was heavy rain, I used an umbrella as I carried a weapon. I was carrying an umbrella to protect myself and the weapons. On humanitarian grounds, I also protected Lalu Prasad Yadav from getting drenched. It was my duty to safeguard him on human ground. People are wrongly interpreting the incident. I did that in good faith and under the law. My intention was right," Kumar said.
RJD Spokesperson Chitranjan Gagan said: "The leaders of BJP are mentally bankrupt and their human sensitivity is finished. Lalu Prasad Yadav is president of a single largest party in Bihar, he was also an ex chief minister and union minister. When he went to Thawe Durga temple, heavy rain was pouring in.
"The police officers were holding umbrellas and also protected Lalu Prasad from the rain while protecting their weapons. What is wrong with it? "I want to ask BJP leaders where is the law to not provide security to a person who is on bail. Lalu and Nitish are instrumental in uniting the opposition parties and BJP leaders are angry about it. That's why they are making unnecessary allegations," Gagan said.