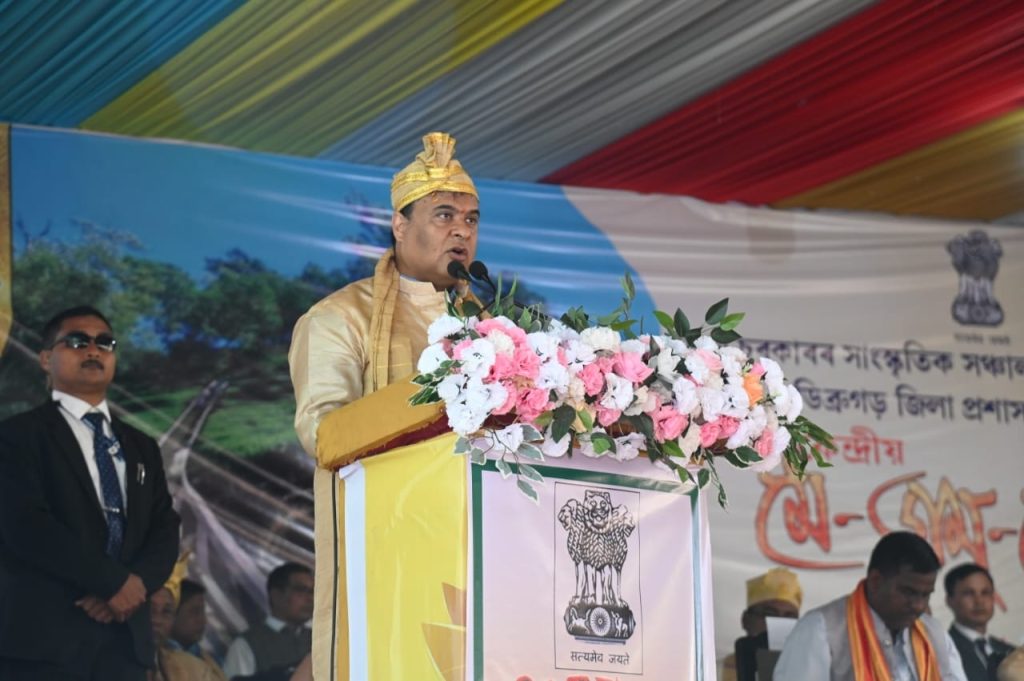 Guwahati, July 1 (IANS) Assam Chief Minister Himanta Biswa Sarma on Saturday asserted that with the promotion of Bihu at the global stage, the Bihu dance will soon be as sought after as other popular dance forms across the country and the master trainers will have to travel around the country to teach Bihu to people of other regions.
He said that the Assam government has planned to arrange a Bihu dance programme in the national capital with at least 25,000 artists.
As a gesture of the state government in expressing its gratitude and acknowledging the participants in the Mega Bihu event which created Guinness World Record in April, Sarma on Saturday honoured the Bihu artists with citation and cash incentives at a function held at Moncotta in Dibrugarh.
Speaking on the occasion, the Chief Minister said that the mega Bihu event at Sarusajai Sports complex in Guwahati in the month of April which got featured in national and international media was a recognition to Bihu. Through the event, the culture, costume and competence of the people of Assam were promoted to the global level.
He also said that ever since Prime Minister Narendra Modi donned the 'Asomiya Gamocha', the use of it has become widespread throughout country.
Sarma further mentioned that with the celebration of 400th birth anniversary of Lachit Borphukan in Delhi last year, there has been new inclination among the people to know more about the patriot.
"A book exclusively on Lachit Barphukan was published and attempt has been made to translate the book into different regional languages. The government will take steps to release the book in every state and introduce a lesson on Lachit Barphukan in the curriculum of other state," he added.
The Chief Minister said that the proposed statue of Lachit Barphukan being installed in Jorhat once completes, will become one of the three most imposing statues of the country.
Union Minister of State for Petroleum and Natural Gas Rameswar Teli, Cultural Affairs Minister Bimal Bora and a host of other dignitaries were present on the occasion.