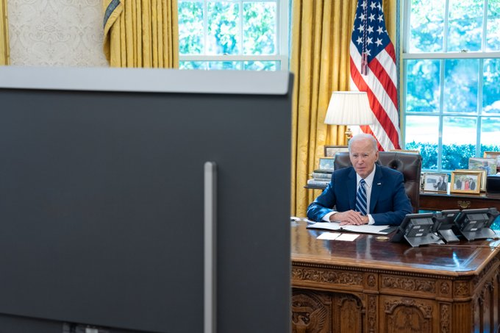 Yashwant Raj
Washington, Oct 15 (IANS) US President Joe Biden had dispatched two of his seniormost foreign policy officials to Israel in the days since the Hamas terrorist attack as a public demonstration of US support, ordered the navy's largest and most advanced nuclear aircraft carrier into the eastern Mediterranean Sea, and told regional players to stay away.
The Biden administration's embrace of Israel is tight and complete.
"The United States unequivocally condemns this appalling assault against Israel by Hamas terrorists from Gaza, and I made clear to Prime Minister (Benjamin) Netanyahu that we stand ready to offer all appropriate means of support to the government and people of Israel," Biden said in a statement shortly after the attacks on October 7.
"Terrorism is never justified. Israel has a right to defend itself and its people. The United States warns against any other party hostile to Israel seeking advantage in this situation. My Administration's support for Israel's security is rock solid and unwavering," he added.
Secretary of State Antony Blinken was in Israel Thursday with assurance of support and Secretary of Defense Lloyd Austin followed on Friday with a planeload of munitions.
Blinken carried on from Israel to tour the region, the neighbouring countries such as Jordan and Qatar, rallying support for Israel and against Hamas.
"I've also been making it clear in all of my conversations throughout this trip that there can be no more business as usual with Hamas," Blinken said in Doha. "Murdering babies, burning families to death, taking little children as hostages. These are unconscionable acts of brutality."
As before, Biden has also sought to rally US allies and present a united front. The day after his own statement, leaders of France, Germany, Italy, and the UK joined Biden to reiterate the same sentiments in a joint statement. And once again, they put the region on notice. "Our countries will support Israel in its efforts to defend itself and its people against such atrocities. We further emphasise that this is not a moment for any party hostile to Israel to exploit these attacks to seek advantage."
The joint call is a standard page of Biden's foreign policy playbook. He has tried to rally the US's allies and present a united front to confront most challenges that he has confronted — chiefly, the Russian invasion of Ukraine and now the Israel-Hamas war. A joint front does not preclude differences and contradictions but most of them are sorted off camera, in private.
Biden's unqualified support for Israel has earned him hero status in Israel, matching the star power or his predecessor President Donald Trump, if not overtaking it. Trump had shifted the US embassy to Jerusalem recognizing it as the capital of Israel as Israelis had been demanding for decades. He also recognised the captured Syrian Golan Heights as Israeli territory.
As a Democrat President, Biden had inherited a fractured relationship with Netanyahu-led Israel because of the Iran deal brokered by the Obama administration. Israel had opposed the deal, especially Prime Minister Netanyahu. And that chasm was reflected in domestic US politics as the Jewish community abandoned its historical home, the Democratic party, for the Republican party.
Biden's tight embrace of Israel in this conflict has won him praise from his most strident critics in the Jewish community, including Trump administration officials. Americans Jews are a powerful political entity because of their unmatched financial clout as a collective.
"While I have been, and remain, deeply critical of the Biden Administration, the moral, tactical, diplomatic and military support that it has provided Israel over the past few days has been exceptional. As one living in Jerusalem with children who are Israeli citizens, I am deeply grateful," David M. Friedman, Trump's Ambassador to Israel, wrote in a post on X.
Whatever challenge Biden has faced to his position on the Israel-Hamas war has come from within, the Democratic party's progressive wing.
"The Biden Administration is failing in its duty to protect all civilian and American lives in Gaza," Rashida Tlaib, a Democratic lawmaker of Palestinian descent, wrote on X.
"Instead of continuing unconditional weapons sales and military aid to Israel, I urge the United States at long last to use its diplomatic might to push for peace," said Ilhan Omar, an American Muslim member of the House of Representatives.