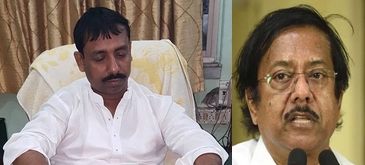 Kolkata, Nov 11 (IANS) The Enforcement Directorate (ED) probing the multi-crore ration distribution case in West Bengal has got specific information about Bakibur Rahaman, the Kolkata-based businessman arrested in connection with the case, extending huge unsecured and interest-free loans to the wife and daughter of state minister Jyotipriya Mallick, who is also in ED custody in connection with the same case.
Sources said that as per information available with the central agency, the loan extended by Rahaman to the minister's daughter was to the tune of Rs 9 crore and the entire amount was unsecured and interest-free.
The loan was extended during the 2016-18, when Mallick was the Food & Supplies Minister. Currently, he is the Forest Minister.
The ED on Saturday approached a special court in Kolkata seeking permission to question Rahaman at the Presidency Jail where he is serving judicial custody, to which the court agreed. Rahaman's judicial custody ends on November 22.
Sources said that the central agency wants to question him on his compulsion to extend such a huge amount of unsecured and interest-free loan to the minister's wife
and daughter.
The ED wants to conform whether there was any kind of influential pressure on the arrested businessman to extend such huge loans.
Political observers feel that in the wake of the fresh evidence secured by the ED, the minister's earlier claims of not knowing Rahaman at all has been demolished totally.
Besides being accused of selling flour meant for public distribution system (PDS) in the open market, especially to certain packaged-flour marketing entities, Rahaman is also accused of procuring paddy from farmers below the minimum support price by floating a fake farmers' cooperative and selling the same paddy at prices above the minimum support price.