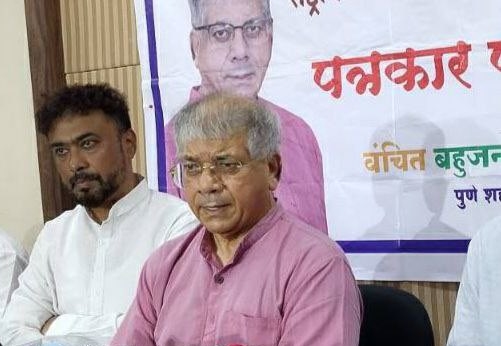 Mumbai, Aug 8 (IANS) On a day when the Congress and other Opposition parties were debating a no-confidence motion against the BJP-led government at the Centre in the Lok Sabha, the Vanchit Bahujan Aghadi (VBA) came up with seven questions to embarrass the grand old party, here on Tuesday.
"Since the Congress was busy celebrating Rahul Gandhi's reinstatement as an MP in the LS yesterday, allow me to divert Congress' and their allies' attention to very legitimate issues and questions as a former 2-time MP," said VBA President Prakash Ambedkar, the grandson of the Chief Architect of Indian Constitution, Dr. B. R. Ambedkar.
Shooting off his queries, Ambedkar asked when with the Congress an allies raise the real affairs and issues of the Dalits, Adivasis, Muslims and OBCs rather than taking a token half-hearted stand, as their reactions in both the Manipur violence and Nuh incidents were terribly late and reeked of political correctness.
Ambedkar asked the Congress and allies when they would raise the real questions on the Manipur crisis — like why was the ST status given to the Hindu Meites, which party initiated the process, and what is their stand now.
Ambedkar demanded to know why the Congress didn't participate in the debates on the draconian Data Protection Bill, which the government passed in the LS faster than an order is delivered from a food delivery App.
"When is the Congress going to corner the government on its recent policy to ban import of laptops, which directly helps a particular manufacturing enterprise whose shares have soared since the ban?" said Ambedkar's next dart.
He wanted to know what is the Congress' stand on the 'seed of corruption' — the electoral bonds — in India.
The VBA chief asked the Congress allies whether it was in agreement with the government's data and replies, time and again reiterated in both Houses of Parliament, that the practice of manual scavenging has ceased to exist in India.
Ambedkar sought the Congress' explanation on the Karnataka government's move to divert SC sub-plan and ST sub-plan funds for its guarantee schemes.
In another arrow, Ambedkar wondered how different is the Congress from the BJP if its ex-CM Kamal Nath is hosting Bageshwar Baba — who routinely raises demands for a Hindu Rashtra?
"Dear Rahul Gandhi, you were 'silenced'. But was the whole Congress and the I.N.D.I.A. alliance silenced too, all this time? Jawab Dena Hoga!" concluded Ambedkar.
The VBA has been making attempts to join the Maha Vikas Aghadi alliance in Maharashtra, hoping to fight the upcoming civic, Parliament and Assembly elections jointly, but has got a cold response so far.