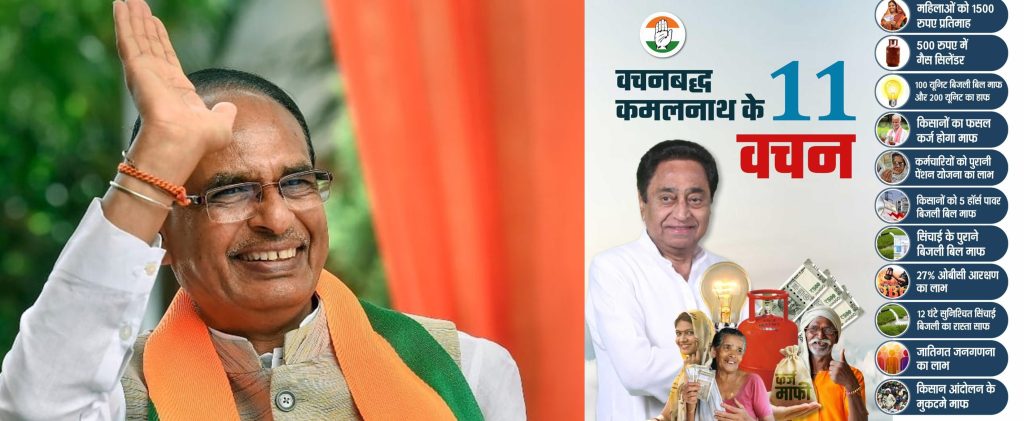 Praveen Dwivedi
Bhopal, Sep 3 (IANS) Ahead of the Assembly polls in Madhya Pradesh, the main contestants — the Bharatiya Janata Party (BJP) and the Congress — are testing the limits of freebies politics.
While the ruling BJP led by Chief Minister Shivraj Singh Chouhan is announcing one after another freebies or cash incentive schemes in the state to lure voters, the Congress too is making various lucrative promises to win the polls.
State Congress led by Kamal Nath has hit the electoral battle against the BJP with 'five guarantees' — cash transfer for women (Rs 1,500 monthly), LPG cylinders at Rs 500 each, implementation of the old pension scheme, subsidised electricity and farm loans waiver.
The BJP, which has high hopes from its 'Ladli Behna Yojana' — a women-centric cash incentive scheme of providing Rs 1000 every month announced a few months ahead of the assembly polls, has come out with an offer to provide LPG cylinders at Rs 450 along with subsidised electricity.
Just three months after the announcement of the Ladli Behna Yojana, Chief Minister Chouhan has now announced to increase the incentives paid under the scheme from Rs 1,000 to Rs 1,250 in October.
Addressing a mammoth gathering of women from across state last week in Bhopal, Chouhan said: "Women will get cooking gas at Rs 450 in the holy month of Sawan", adding that "from October, 1.25 crore women will get Rs 1,250 (under Ladli Behna Yojana) and the amount will gradually be hiked to Rs 3,000 per month so that the aim of uplifting the economic and social condition of women is fulfilled".
The Congress with its five 'vachans' (promises) is betting on tested schemes that it promised and implemented after coming to power in Karnataka and Himachal Pradesh.
Madhya Pradesh currently has a pension liability of Rs 23,011 crore, which according to a research report is expected to reach Rs 69,062 crore by 2030-31.
Responding to the BJP government's announcement of providing Rs.1,000 to the women, Kamal Nath said: "I am happy that the BJP has started giving cash incentives to the women after the Congress forced them to do so. But, why do they do all these things when the elections approach? Why were these schemes not implemented in the last 18 years?"
Business experts, citing various reports, underlined that the state's committed expenditure, including expenses on payment of salaries, pensions, and interest, jumped from 32 per cent of revenue receipts to 42 per cent during 2016-17 and 2021-22.
"BJP and the Congress are competing with each other to woo the voters in Madhya Pradesh, though the state's financial condition at present is not that well to permit implementation of all these schemes. Both parties have promised schemes totalling worth thousands of crores of rupees and they don't look done with the promising spree yet. The 'revdi culture' in the state is in full play," said a senior journalist. He added that the state is already under a debt burden of Rs 3.5 lakh crore with many freebies schemes being implemented with an eye on the upcoming elections.