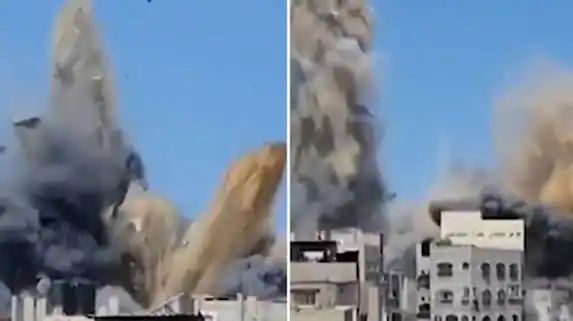 New Delhi, Oct 8 (IANS) The Izzedine al Qassam Brigades, the armed wing of Hamas, says it has fired an additional 150 rockets toward Tel Aviv, media reported.
The group said this was in "response to the bombing of the residential tower in the centre of Gaza City," in a post on Telegram.
A grouping of high-rises in Gaza were hit by an explosion and two towers were seen collapsing.
"Now that the occupation has bombed the Palestine Tower in the middle of Gaza City, Tel Aviv must stand on one leg and wait for our earth-shattering response," Abu Obaida, Spokesperson of the AlQassam Brigades, had said on Telegram, CNN reported.
A new round of rockets fired by Gaza militants have made direct hits on multiple locations inside Israel, including in Tel Aviv, according to Israel's Magen David Adom (MDA) rescue service.
"Following the red alert sirens in the last few minutes, Magen David Adom teams are conducting searches in the areas where rocket hits have been reported," the organisation said on Saturday evening.
It listed Tel Aviv, Rishon Letzion and Bat Yam as the affected areas, CNN reported.
Hamas is an Islamist organisation with a military wing that came into being in 1987, emerging out of the Muslim Brotherhood, a Sunni Islamist group that was founded in the late 1920s in Egypt, CNN reported.
The word "Hamas" is itself an acronym for "Harakat Al-Muqawama Al-Islamia" – Arabic for Islamic Resistance Movement.
The group, like most Palestinian factions and political parties, insists that Israel is an occupying power and that it is trying to liberate the Palestinian territories. It considers Israel an illegitimate state.