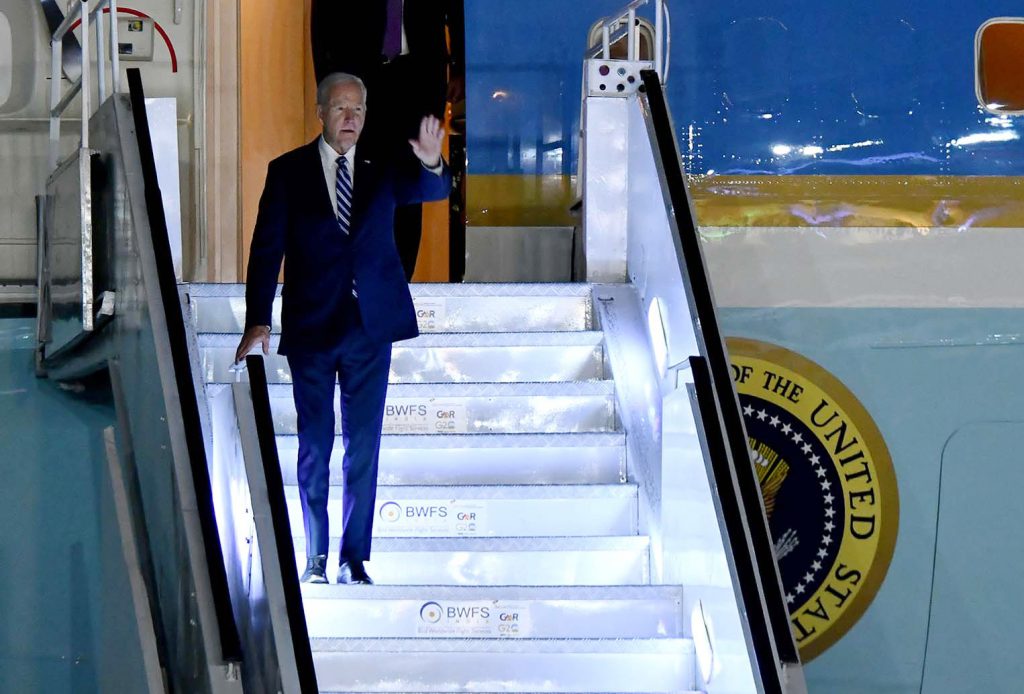 By Yashwant Raj
Washington, Sep 9 (IANS) "As world and Asian leaders gather this month in … for the G20, in … for APEC meetings, and in … for the East Asia Summit, a phenomenon coloring some observers' perceptions of global politics and economics is the alleged decline of the US."
This passage about "alleged American decline" is from a commentary that ran on the website of Brookings, a major US think tank, in 2011 under the headline "Is America Declining?"
The same question has been asked every year since, with the insinuation that it's the incumbent president of the time who is responsible for it. And it's being asked again now as US President Joe Biden joins G20 leaders — barring two glaring absentees Russia's Vladimir Putin and China's Xi Jinping — in New Delhi for an annual meet.
Is the US declining under President Biden?
The US dollar remains the dominant international currency of trade and exchange on Biden's watch with no serious threat despite the wishful rhetoric from China and Russia; the economy continues to be the largest in the world with $26.65 trillion GDP (China is second at $19.27), according to the International Monetary Fund; US-led NATO has grown, acquiring a new member, Finland, with another one waiting in the wings, Sweden; US-led an alliance of western countries has foiled Putin's takeover of Ukraine; Biden's America has rapidly escalated the Quad's engagement to summit-level and founded AUKUS to counter rising Chinese influence in the Indo-Pacific; and, finally, Biden pulled the US out of Afghanistan, ending its longest war after the previous two presidents, Barrack Obama and Donald Trump, had failed.
Biden has also focused his administration on countering China's rising global influence as a competitor. Instead of launching aa messy trade war like his predecessor – Trump, he has used narrowly focused authorities to choke China, denying it sensitive technology under the overall strategy of derisking and diversifying.
He has scaled up pressure on China, whose economy is undergoing its worst downturn yet, to concede more market access and fair and equal treatment of US companies. His commerce secretary, Gina Raimondo, read the riot act to the Chinese leadership during a recent visit telling them their country is becoming "uninvestable".
Biden's own personal image was seen largely positively globally, as demonstrated in a poll by Pew earlier in the year.
A median of 54 per cent of the respondents in 23 countries said they have confidence in the American president. In the same poll, a median of 58 per cent of the respondents said they had a positive view of the US; although many of them also said the US interferes in the affairs of other countries.
A Pew poll in 2020, which was Trump's presidency, reported an all-time low in the world's perception of the US — a median of only 34 per cent of the respondents held a favorable view of the US and the incumbent president at the time was down to 16 per cent favourability.
Biden himself and the Biden-led American fare considerably better, with double-digit leads in percentage points.
President Biden scores low popularity ratings at home in the US, however.
In a poll released just ahead of his departure for New Delhi, his popularity stood at 39 per cent, and most Republicans vying for the party's nomination to take on the president in 2024 were in close head-to-head matches with him, with one exception, former Ambassador to UN Nikki Haley who had a clear lead over Biden.
The narrative of American decline draws some sustenance from how American themselves view America's global standing.
Opinions about America's global standing dipped slightly in 2023 as 21 per cent said the US "stands above all other countries in the world", compared to 24 per cent in 2019; 52 per cent said the US is "one of the greatest countries, along with some others", compared to 55 per cent in 2019; and 27 per cent said "there are other countries that are better than the US" compared to 21 per cent in 2019.
And it had to do with the domestic politics of the US.
"Much of this recent change in attitudes has come from Republicans and Republican-leaning independents. Four years ago, 40 per cent of Republicans said the US stands above all other nations, compared with 31 per cent today. And the share of Republicans saying other countries are better has nearly doubled, from 9 per cent to 17per cent," Pew said in an August report.
Allegations of American decline remain what they were in 2011, allegations.