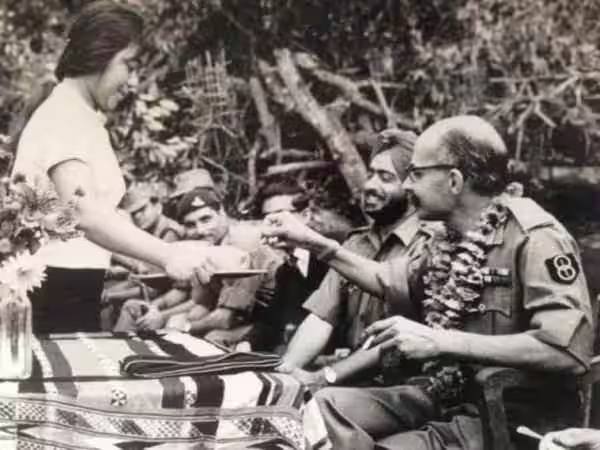 Nirendra Dev
New Delhi, Aug 14 (IANS) Everybody is talking about the March 5, 1966 'Aizawl Bombing' ever since Prime Minister Narendra Modi triggered a row by referring to that unfortunate episode during his 'no-confidence motion' speech in the Lok Sabha.
But it ought to be understood that Indira Gandhi was hardly a 40-day old Prime Minister then and 'her image' still was that of 'Goongi Gudiya', or a dumb doll.
One version from informed sources is that when the Army/Assam Rifles movement was difficult and Mizo rebels refused to 'move out' from their positions, the bombing on the Mizo rebels hideouts were ordered.
The forward advance of 2 Para and 8 Sikh Regiment was also held up prior to that.
Indira Gandhi had been dubbed as a 'Goongi Gudiya' by none other than socialist stalwart Ram Manohar Lohia.
The fact of the matter is circa 1966 was a tough year for India. On January 11, 1966, India's second Prime Minister Lal Bahadur Shastri expired in a rather controversial circumstances in Tashkent.
Gulzari Lal Nanda succeeded him and was in office for 13 days before Indira Gandhi took charge on January 24, 1966. It is also true Indira Gandhi was 'not the natural choice' of the Congress then, and she took oath only as a compromise candidate amid inner-party confabulations.
Now in circa 2023, some Mizo intellectuals are aggrieved.
Professor J.V. Hluna, a native Mizo historian, said, "Why the national media has given an impression that the Mizos had almost forgotten the Aizawl
Bombing of 1966 and Narendra Modi is making us remember that all over again. We never forgot, nor forgave anyone."
"In fact, apology was demanded by the Mizos from the Manmohan Singh government after, as a Sikh Prime Minister, he had tendered an apology for the 1984 anti-Sikh riots," Hluna told IANS.
During the UPA stint, Prime Minister Manmohan Singh had tendered a public apology for the 1984 anti-Sikh riots.
It was also hailed in an American diplomatic cable as an "almost Gandhian moment of moral clarity in India's long march to religious harmony".
An Aizawl-based social activist, Zodi Sanga, told this journalist last week, "Prime Minister Modi has revived old wounds. As a BJP leader, he might have done his part of politics. But he should have gone a step further and even tender an apology in the House on behalf of the
Government of India."
In terms of 'official version', those in service in multiple ministries and in the possible know of things say "most information about Aizawl Bombing is classified".
However, the date of Air Force bombing is 'confirmed' (March 5, 1966), they say, adding, "The Operation took place four days after the Mizo rebel leader on March 1, 1966 announced Mizo independence and made life difficult in more than one place for Assam Rifles."
Unlike reported in a section of the media, in the first week of March (1966) or even on the fateful aerial strike day, March 5, Laldenga was in Mizoram only and not in Karachi.
Local sources also claim that only after the third week of March, probably after the Indian Army consolidated its position and MNA lost ground, Laldenga left for Dhaka via the Chittagong hill tracks.
Laldenga's lieutenant Zorathanga had then appeared for his graduation exam from Manipur and was reportedly "awaiting results".
But the source also maintains that "Mizoram was still very much part of greater Assam state and that way there is no question of calling it secession. We can add one more information – the Army operation on the ground to clear Mizo insurgents' held positions was carried out by 61 Mountain Division led by Brig Rustom Zal Kabraji".
Even Mizo local experts have heard about "Brigadier Kabraji".
"The Army fighters of Mountain Division came from Tripura traversing tough terrains," a senior citizen in Aizawl said.
Hluna said, "Travelling required days of trekking and for some time Army soldiers faced hurdles between Silchar (in Assam) and Aizawl at the strategic location of Kolasib."
Answering questions, Hluna said, "By March 1, 1966, the Mizo National Army guerrillas were very successful and carried out attacks against Assam Rifles in Lunglei and Champhai…Even in Assam Rifles' local headquarters unit in Aizawl, the soldiers faced water problem and supply of essentials.
Mizo cadres prevented them from moving out of the camps."
He added, "One problem faced by Delhi could be the fact that there was political uncertainty… Indira Gandhi had taken over as the Prime Minister only on January 24, 1966 and within 40 days, Laldenga made the mega announcement and she had to decide about the Air Force actions."
This is a fact of life.
On March 5, 2011, while rest of India debated issues such as Lokpal and various corruption scams, a large number Mizos took out a silent procession in Aizawl to mark the 45th year of the Indian Air Force bombardment. Mizos call it 'Zoram Ni' (Mizoram Day) with pain in their hearts.
The air raids in Tlabung on the Mizoram-Bangladesh border and Sangau and Hnahlan on the Mizoram-Myanmar boundary besides Aizawl left about 20 people dead.
Hluna said, "A Christian missionary later could find 13 bodies at a spot near Aizawl and hence the apology demand made sense for Mizos after Manmohan Singh said sorry to the Sikhs… Either Manmohan Singh or even UPA chairperson Sonia Gandhi should have said sorry on the floor of
the Parliament."
It may be mentioned that on January 27, 1998, Sonia Gandhi at a rally in Chandigarh had tendered a veiled apology for the Army storming the Golden Temple in 1984.
Among the former military officers, who served in northeast including in the tough terrains of Mizoram and Manipur, there is a general refrain that it was only after the 'aerial attack' that the military could regain control of the vast areas which had fallen into Mizo insurgents' hands.
(Nirendra Dev is a New Delhi-based journalist. He is also author of the books 'The Talking Guns: North East India', and 'Modi to Moditva: An Uncensored Truth'. Views expressed are personal).