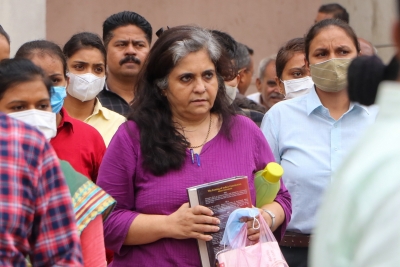 Ahmedabad, July 20 (IANS) A sessions court here on Thursday dismissed activist Teesta Setalvad's discharge application in relation to a case of allegedly fabricating evidence to implicate high government functionaries in 2002 Gujarat riots cases.
This decision came a day after her bail plea was allowed by the Supreme Court, which set aside the Gujarat High Court order denying it as "perverse".
Additional Principal Judge of the City Civil and Sessions Court, A.R. Patel rejected Setalvad's application, stating that a prima facie case could be made against her.
Setalvad, who has maintained her innocence, moved the plea to be discharged in the criminal case lodged against her by the Gujarat Police. Accused of fabricating evidence and tutoring witnesses, Setalvad, in her discharge application, argued that there were no grounds connecting her to the alleged offences and that the material marshalled against her was insufficient.
However, the court ruled against Setalvad, stating that there was enough material on record to sustain a case against her.
Setalvad, along with former civil servants R.B. Sreekumar and Sanjiv Bhatt, has been under scrutiny for alleged fabrication of evidence and false proceedings related to the Gujarat riots conspiracy case. Setalvad's discharge application was filed through advocate SM Vatsa, while Special Public Prosecutor Amit Patel appeared for the state.
The allegations against Setalvad stem from an FIR filed in 2022, a day after the Supreme Court dismissed a petition filed by Congress leader Ehsan Jafri's widow Zakia Ehsan Jafri alleging a larger conspiracy during the 2002 Gujarat riots. Setalvad and Jafri had challenged the closure report filed by a special investigation team (SIT), which had discarded the allegations of a larger conspiracy involving high state functionaries.
Setalvad was taken into custody by the Gujarat Police's Anti-Terrorism Squad in June and had since been seeking bail. Her discharge application has now been rejected by the Ahmedabad sessions court, signaling that she will have to face trial.