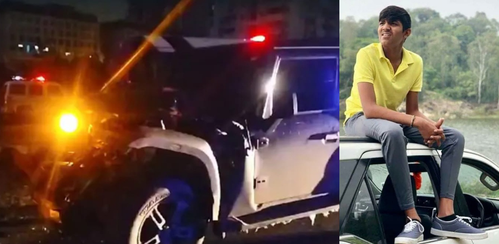 Ahmedabad, July 20 (IANS) Anil Wadhwadiya, a grieving father from Surendranagar, was in the middle of preparing for the last rituals of his son, Armaan, when he spoke about the tragic incident.
A speeding Jaguar ploughed into a crowd on a flyover near the ISKCON temple here in the early hours of Thursday, killing nine persons and injuring at least 13 others. The car was being driven by a college student.
The student has been identified as Tathya Pragnesh Patel, who is the son of a wealthy builder and is in the second year of college.
Armaan, who had just turned 21 this year, had dreams of going to the US and had moved from their small town to Ahmedabad to prepare for the IELTS exam.
Anil, a businessman in Surendranagar, shared the details of the fateful night with IANS.
Armaan was out with his friends in a car when he witnessed a collision between a truck and a Thar vehicle on the highway.
Showing compassion, he stopped to help the injured. However, tragedy struck as Armaan was run over by a Jaguar when he approached the scene.
"His (the builder's son) boy was drunk, and he was hardly injured in this accident but he was still taken to the hospital to show that he was injured," Anil revealed.
Anil continued, recounting the events that unfolded after the accident.
"One of his friends, a witness, even gave a statement to the police initially, which they considered. However, soon after, the boy's father, Pragnesh Patel, arrived at the scene brandishing a revolver, threatening everyone and asserting his influence," he stated.
As morning dawned, Anil's hopes for justice were dashed.
Despite his pleas, the police refused to register an FIR, and the eyewitnesses were reportedly intimidated by Pragnesh.
Anil further revealed that Pragnesh visited the Sola Civil Hospital with five bodyguards, instructing everyone not to give an 'official statement'.
Expressing his anguish and desperation for justice, Anil implored: "We are getting no support from anyone. My son was innocent, full of dreams and aspirations. He lost his life… what will I do with the compensation? I need justice."
Armaan was one of the victims of the tragic car accident that occurred on Thursday morning around 1 a.m. on a flyover near the renowned ISKCON temple on Sarkhej-Gandhinagar (SG) Highway in Ahmedabad.
The accident claimed the lives of nine individuals and left around 13 others injured.
The Jaguar, bearing registration number – GJ 01 WK 93 – involved in the accident was driven by Tathya Pragnesh Patel.
The state government has provided Rs 4 lakh to the families of the deceased and Rs 50,000 to the injured as assistance.