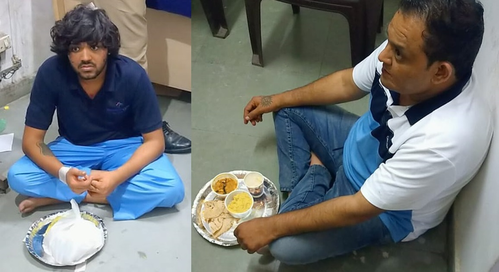 Ahmedabad, July 21 (IANS) A court here on Friday sent Tathya Patel, the driver of the overspeeding Jaguar responsible for the tragic accident that claimed nine lives on the ISKCON Bridge in Ahmedabad, to judicial remand for 3 days, while his father, Pragnesh Patel, has been sent to judicial custody.
The court announced the verdict after hearing arguments from both sides.
The incident unfolded on Thursday near an accident site where a collision between a truck and a Thar vehicle attracted onlookers.
Suddenly, an overspeeding Jaguar car ploughed into the crowd, resulting in multiple fatalities.
Shocking visuals captured the horrifying moment when the Jaguar rammed into the people who gathered near the accident spot, causing at least six casualties.
The speeding Jaguar eventually came to a halt at a distance.
Subsequently, the driver of the car — Tathya Patel — was assaulted by the enraged crowd, and is currently receiving medical treatment at a hospital, as reported by the police.
A complaint has been lodged against Tathya Patel at SG 2 Police Station in Ahmedabad.
Among the victims of the accident are Ronak Rajeshbhai Vilpara, 23, from Botad; Arman Anilbhai Vadhwania, 21, from Surendranagar; Akshar Anil Patel, 21, from Botad; Kunal Kodiya, 23, from Botad, and an unidentified individual.
Tragically, some of those taken to Sola Civil Hospital succumbed to their injuries, including Traffic Police Constable Dhardrasih Narsangbhai Parmar, 40; Nilesh Mohanbhai Khatik (Home Guard), 38, from Bodakdev; Amanbhai Amirbhai Kachi from Surendranagar, and Niravbhai Ramanuja, 22, from Chadlodia, Ahmedabad.
An eyewitness, who provided a statement to the police, recounted the harrowing incident, said: "We were standing nearby when the accident occurred between the Thar and the dumper. Later, as we approached the accident spot, the Jaguar came speeding and crashed into everyone present."