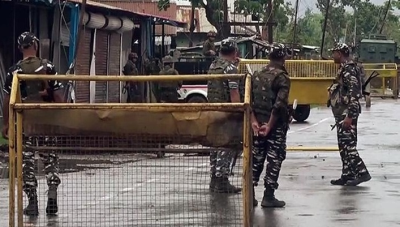 Aizawl/Shillong, July 23 (IANS) After Meghalaya, security cover for Meitei community people living in Mizoram have been strengthened following an appeal by a former militants' organisation in the state (Mizoram), officials said on Saturday.
From the office of the Mizoram Inspector General of Police (IGP), an order has been issued to the Commandants of the three Mizoram Armed Police battalions asking them to strengthen the security of the Meitei people living in Mizoram's four locations.
"In anticipation of a possible development of tension which could threaten the security of Meiteis living in Aizawl, due to the public outrage against the recent viral video of two tribal Kuki-Zo community women brutally assaulted in Manipur, security arrangement is made to ensure safety of Meiteis in Aizawl," the order said.
Meghalaya government has also been providing shelter and security to around 100 people who fled from the violence-hit Manipur.
An official of the East Khasi Hills district administration said that initially, about 368 people from Manipur had taken shelter in various parts of Shillong and its outskirts but the majority of displaced people have left for Mizoram, Assam, Bengaluru, New Delhi and some have returned to their home state.
Around 100 displaced people are still taking shelter in Shillong and its outskirts and the Meghalaya police providing security to them, the official said.
Peace Accord MNF Returnees' Association (PAMRA) appealed to the Meitei community from Manipur living in Mizoram to leave the state for their safety as the situation got tense due to ethnic violence in Manipur.
The PAMRA's appeal comes in the wake of a video showing two Kuki women being paraded naked on camera by a mob on a village road in Manipur.
"The situation has become tense and it is no longer safe for the Meitei people living in Mizoram due to the barbaric and heinous acts committed by miscreants in Manipur," the PAMRA said in a statement in Mizo language.
It said that there is strong anger among the Mizo youths, who are deeply anguished over the barbaric and atrocious act of Meiteis against the Zo or Kuki ethnic people in Manipur on May 4.
The PAMRA said that they (Meiteis) would hold responsibility in any case of eventuality if they disregard the appeal and fail to leave for their safety.
PAMRA Secretary General C. Lalthenlova, however, said that it was simply and normal appeal for safety and not a diktat or warning.
He also said that they did not ask the entire Meitei community to leave but only those from Manipur.
Thousands of Meiteis, including students, mostly from Manipur and Assam live in Mizoram.
Meanwhile, last month Manipur Chief Minister N. Biren Singh in telephonic conversations requested his Mizoram counterpart Zoramthanga to provide adequate security to the Meitei community people in Mizoram.
Zoramthanga assured Singh that his (Zoramthanga) government would take all possible steps for the security of the Meitei community people living in Mizoram.
At least 160 people have been killed and several hundred injured since ethnic violence between the Meitei and Koki-Zo community broke out in the state on May 3, when a 'Tribal Solidarity March' was organised in the hill districts to protest against the Meitei community's demand for Scheduled Tribe (ST) status. In view of the ethnic strife in Manipur, approximately 70,000 men, women and children belonging to different communities have been displaced and are now sheltered at 350 camps set up in schools, government buildings and auditoriums in Manipur and in the neighbouring northeastern states including Mizoram.