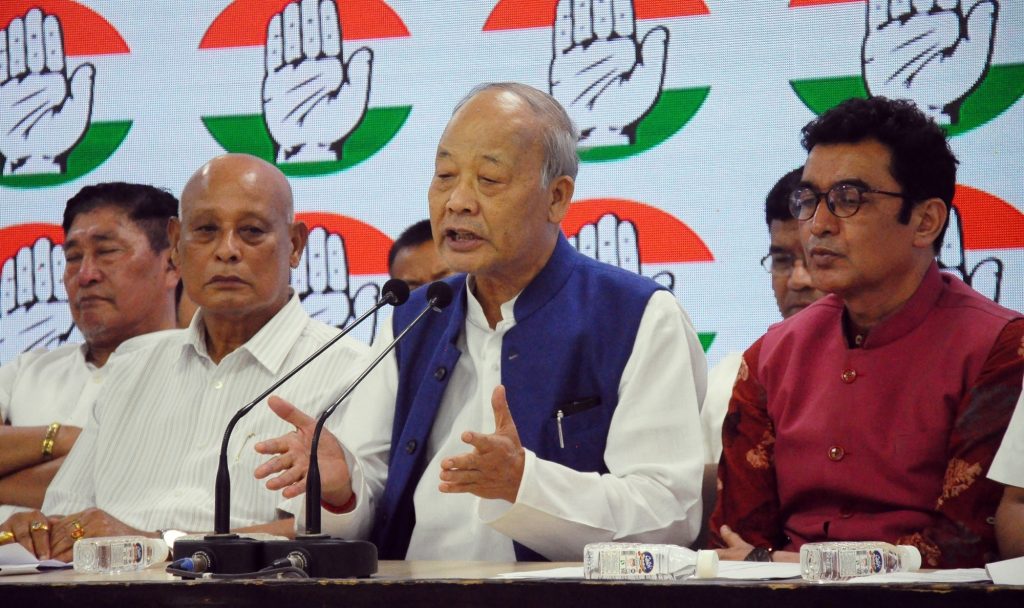 New Delhi, June 24 (IANS) After the three hour-long all-party meeting chaired by Union Home Minister Amit Shah on violence hit Manipur, the Congress once again questioned the silence of Prime Minister Narendra Modi and also demanded the resignation of Chief Minister N. Biren Singh.
Addressing a press conference at the party headquarters here, former Manipur Chief Minister Okram Ibobi Singh, who attended the meeting, said: "Today Home Minister organised one meeting about Manipur at national level. I was there as a Congress representative. This is most unfortunate on my part that they are not giving time. I started thanking Shah for organising this meeting after a gap of 50 days and said that we hope that this type of meeting will be appropriate if the Prime Minister chairs it."
He said that he thought Manipur despite being a small state is strategically important as it shares borders with other countries too.
Taking a swipe at the Prime Minister, Ibobi Singh, who is the CLP leader in the Assembly, said that even now, he has not made a single tweet or expressed one word even after 50 days, when Manipur is burning.
"Why he has not mentioned a single word for Manipur?"
Meanwhile, Congress General Secretary Jairam Ramesh said that it is saddening that a Chief Minister who governed the state for 15 years did not get enought time to speak during the three hour long meeting as he got only seven to eight minutes.
"If someone knows Manipur well, it is Ibobi Singh and he is still a MLA. Manipur was burning in 2001 June, when Atatl Bihari Vajpayee was Chief Minister and after that Manipur came back to track as Ibobi Singh gave a stable government. And out of three hours meeting giving only 7-8 minutes is saddening and disrespectful," the COngress leader said.
Maintaining his party's eight-fold demands, Ramesh said: "This all-party meeting should have been chaired by the Prime Minister, who has not said a single word on Manipur in the past 50 days. This all-party meeting would have been better if it had been chaired by the Prime Minister and had been held in Imphal. This would have sent a clear message to the people of Manipur that their pain and distress is also a matter of national anguish."
He also demanded that all armed groups must be disarmed immediately without any compromise.
Hitting out at the BJP-led government in Manipur, he said: "The Chief Minister should be replaced immediately as the state government has failed miserably in providing effective governance when it has been needed most. The Chief Minister himself has admitted publicly twice his failure to handle the situation and deal with the crisis. He has also asked for forgiveness of the people."
He further said that on March 11, the Chief Minister unilaterally withdrew the state government's commitment to the tripartite Agreement on Suspension of Operations with certain militant groups claiming to be upholders of Kuki interests.
"This move of his was later rejected by the Union Home Ministry but by then enough damage had been done. This is one glaring example in a series of blunders," the Congress leader said.
The Congress leader also demanded that the unity and territorial integrity of Manipur should not be compromised with in any manner, while grievances of each and every community must be heard and addressed sensitively.
He also asked the Central government to ensure that steps are to ensure availability of essential commodities by keeping the two national highways open and secure at all times and a package of relief, rehabilitation, resettlement, and livelihood for the affected people must be prepared without delay.
Ramesh said that the relief package announced is grossly inadequate.
The remarks from the Congress leaders came after the all-party meeting was chaired by Union Home Minister here to discuss the situation in Manipur and what steps the government has taken.
Meanwhile, the Trinamool Congress on Saturday asked the Union government to send an all-party delegation to ethnic violence-hit Manipur to review the situation in the northeastern state amid continuing clashes there.