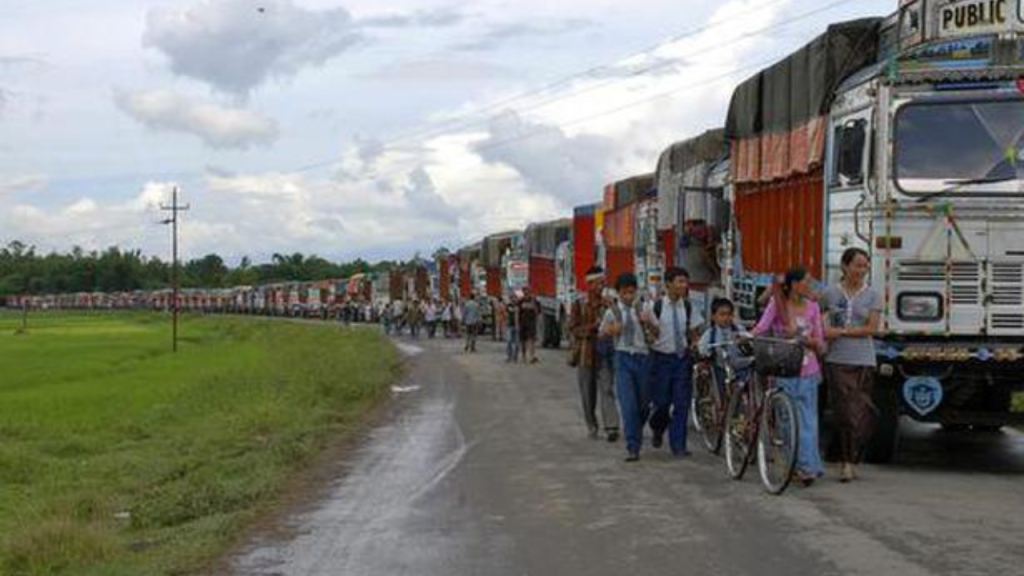 Imphal, July 2 (IANS) After 54 days, movement of vehicles carrying essentials resumed along the Imphal-Dimapur National Highway (NH-2) as the economic blockade, imposed by various organisations in the wake of the ethnic violence in Manipur, was lifted on Sunday.
Officials in Imphal said that with the reopening of the NH-2 (via Nagaland), the lifeline of Manipur, the supply of essentials, food grains, transport fuels and life saving drugs would be easier in all the 16 districts of the northeastern state.
After the blockade of the NH-2 since early last month, Manipur was fully dependent on the Imphal-Jiribam National Highway (NH-37) through southern Assam in procuring essentials, food grains, transport fuels, life-saving drugs and other materials from other states of the country.
The United People's Front (UPF) and the Kuki National Organisation (KNO), in a joint statement, said that they decided to lift the blockade of the national highway passing through Kangpokpi district to ensure uninterrupted supply of essential commodities in Manipur.
The development comes, notwithstanding the anger and anguish of the Kuki-Zo community people, keeping in view Union Home Minister Amit Shah's concern to restore peace and harmony in the state and alleviate the plight of people in general.
The joint statement signed by UPF spokesperson Aaron Kipgen and KNO spokesperson Seilen Haokip said that the decision to lift the blockade was taken after wide-ranging consultations with various civil society organisations, village chiefs, youths and women leaders on several occasions.
It highlighted that Manipur has been witnessing ethnic violence between Meiteis and Kuki Zo communities since May 3 and recurring violence has led to loss of precious lives and destruction of property besides hundreds being injured and thousands being displaced.
The ongoing conflict has disturbed the traditional communal harmony in the state, the statement said, claiming that the Kuki-Zo people have suffered immensely in continued offensives by miscreants and have urged the authorities to protect their lives and properties.
The Kuki Zo organisations had earlier met the Union Home Minister and requested him to provide security in the vulnerable villages in the bordering and foothill areas, the statement said.
Appreciating that central forces have been deployed in most of these areas as assured and the process is in progress, it said: "Once the deployment of central forces is completed in all vulnerable areas, we will ensure that our volunteers are withdrawn from these areas to help restore peace and tranquillity."
It is expected that the concerned authorities will take every measure to maintain peace and ensure supply of essential commodities to the needy, particularly in the hill districts, the statement added.
The statement also appealed to all peace-loving organisations and citizens of Manipur to reciprocate their gesture and take steps towards peace and communal harmony in the state.