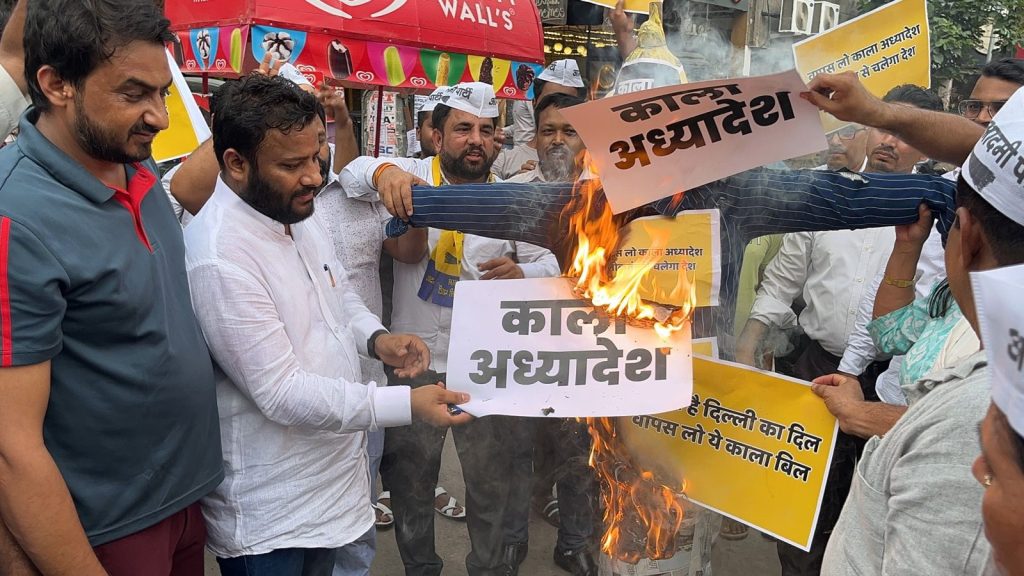 New Delhi, July 5 (IANS) The Aam Aadmi Party (AAP) on Wednesday organised protest rallies at multiple locations here and burnt effigies of the Central government's ordinance on control of services in the national capital.
"From July 6 to July 13, effigies and copies of the black ordinance will be burnt at various locations across Delhi, which will serve as a powerful reminder of people's discontent," AAP said.
The AAP said that the significant turnout of Delhi residents for the protest rallies clearly conveyed their demand for the withdrawal of the 'oppressive' ordinance, which infringes upon the constitutional rights of the elected government.
The public firmly believes that the 'black' ordinance undermines the best interests of Delhi, AAP said.
"It is important to note that a previous Supreme Court order granted the elected government of Delhi the authority over services, including the transfer and posting of officers. The court recognised that denying a government control over its officers would hinder effective governance, contradicting the intentions of the Constitution makers. Thus, the court ruled that the Arvind Kejriwal government should have legislative and executive power over services necessary for the region's administration," AAP said.
However, a week later, the Centre disregarded the Supreme Court's decision and overturned it by introducing the 'black' ordinance, the party claimed.
AAP also alleged that this ordinance effectively stripped the elected government of Delhi of its rightful powers.
The party is resolutely committed to championing the rights and legitimate concerns of the people of Delhi, and it would take the struggle to the streets to challenge the 'black' ordinance imposed by the Central government, it said.
"As part of a pre-announced programme, AAP workers and supporters demonstrated their opposition to the ordinance by burning copies of it at various locations across Delhi. In continuation of these efforts, from July 6 to July 13, copies of the ordinance will be symbolically burnt at every locality in Delhi," the party said.