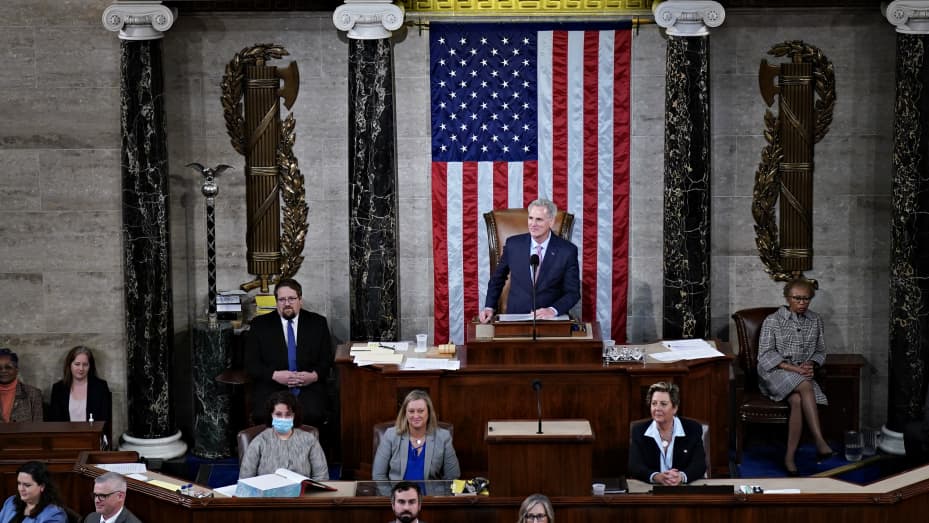 Washington, Oct 23 (IANS) As many as nine Republicans are officially running for speaker as Congress reconvenes to resolve the three week gridlock to elect House Speaker since the ouster of Kevin McCarthy.
The GOP leadership in the house will hear from each of the nine candidates in a closed-door session on Monday night. A secret-ballot vote will be held Tuesday morning to select the most fitting lawmaker to be the nominee followed by a floor vote as early as Tuesday to decide the new speaker.
Republicans have gone through this rigmarole twice since Kevin McCarthy was ousted as speaker in early October. House Majority Leader Steve Scalise and House Judiciary Committee Chairman Jim Jordan, could not break through the strong divisions and holdouts in the party to be elected as McCarthy's successor, leaving one half of Congress in an unprecedented limbo.
The Congress has been unable to pass important legislations such as war time aid to Israel and Ukraine as US President Joe Biden has forwarded a resolution to the house to permit flow of $105 billion in aid to Israel, Ukraine and the southern border patrol force for humanitarian and military aid amid the middle east war and border crossing by illegal immigrants, reports said.
More than 67 per cent of Americans polled by USA Today and Suffolk University wanted the Congress to elect a speaker immediately to end the 21 day stalemate and the "soap opera" in the house as legislators were testing their patience with their personal agendas while they should be doing their jobs for which they had elected them to the house in the first place, USA Today said.
According to House Republican Conference Chair Elise Stefanik, the following candidates are now running for speaker:
Jack Bergman of Michigan: Rep Jack Bergman is a retired lieutenant general who spent decades in the Marine Corps. Bergman announced on X. He is serving his 4th term in the Congress.
Byron Donalds of Florida: Rep Byron Donald's is serving his second term after rising from the ranks of the Florida state Legislature. A trusted Trump loyalist and a favorite of the hard-line House Freedom Caucus. One of four Black House Republicans, he is lauded for his communication skills.
Tom Emmer of Minnesota: After serving as the No 3 Republican behind McCarthy and Scalise, Emmer is a major contender. He is House majority whip and has his back to McCarthy who stands solidly behind him for the speaker's post. He is deeply disliked by some of Trump's supporters because he did not vote against certifying the 2020 presidential election results shortly after the January 6 riots. Emmer is serving his fifth term, with a seat on the House Financial Services Committee.
Kevin Hern of Oklahoma: Rep Kevin Hern once bid for speakership following McCarthy's ouster but chose not to run against Jordan or Scalise. But right after Jordan ended his own bid last week. Hern is in his fourth term and sits on the powerful Ways and Means Committee and is the current chairman of the Republican Study Committee — the largest group of House Republicans.
Mike Johnson of Louisiana: Rep Mike Johnson, a fourth-term lawmaker, is the House Republican vice conference chair and previously served as chairman of the Republican Study Committee. He also holds seats on the Judiciary and Armed Services committees.
Dan Meuser of Pennsylvania: Having served the house since 2019, Rep Dan Meuser sits on the Financial Services and Small Business committees.
Gary Palmer of Alabama: Rep Gary Palmer has been in the House since 2015. As chair of the Republican Policy Committee, he is the No 5 Republican in the House.
Austin Scott of Georgia: Rep Austin Scott was also in the race in the second round for speakership opposing Jordan — losing 81-124 in a secret ballot and then throwing his lot behind the Judiciary chairman. With Jordan out, Scott is re-entering the free-for-all.
Pete Sessions of Texas: Rep Pete Sessions is serving in his 13th term after a two-year hiatus because he lost re-election in 2018 — then won his 2020 race. Congressman Sessions believes he can forge a positive path as a conservative leader who can unite the Conference. He is the oldest in the running.
Meanwhile , veteran speaker Newt Gingrich said he favoured a " lady speaker" of the house as she would be able to unite the divided Republicans in the house as he felt "rogue elements" ( the holdouts) in the house would listen to her than anyone else. But he did not get anyone's attention because as 50th GOP speaker of the house (1995-99) , he wrecked the Congress by making partisan debates into "blood sport" paving the way for "Trump to rise in politics", media reports said.