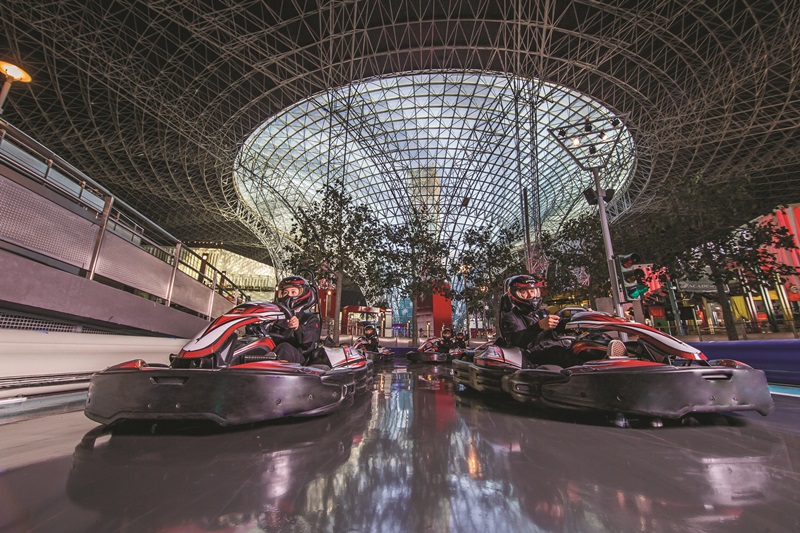 New Delhi, July 27 (IANSlife) If you are a bunch of adrenaline junkies and car enthusiasts, Ferrari World at Yas Island, Abu Dhabi offers an array of thrilling adventures that will strengthen the bond of friendship while creating unforgettable memories.
Besides 40 exhilarating rides and experiences, you all can enjoy a delicious Italian or international feast at one of the six restaurants that will transport you straight to Ferrari's Italian homeland.
It's time to elevate your adventure and capture those Instagram-worthy moments with your best buddies by your side! To make your trip even more memorable, we have put together some must-try rides and experiences that will add an extra spark to your visit to Ferrari World Abu Dhabi.
Feel the Rush at Formula Rossa – World's Fastest Rollercoaster
Strap in, put your goggles on, and prepare to be blasted at 240km/h in 4.9 seconds on the world's fastest rollercoaster. After scaling heart-racing heights of 52 meters and with the adrenaline rush of 4.8Gs riding high, you'll cross the finish line feeling like a true Scuderia Ferrari champion.
Inspired by the speed and excitement of Formula 1 racing, the Formula Rossa replicates the sensation of being in a real race car. The coaster's design simulates the thrilling bends and turns of a racetrack, making you feel like a professional race car driver.
Buckle Up for Turbo Track's Vertical Climb
Take a seat as a Ferrari Test Driver as you and your friends experience back-to-back thrills, a vertical climb and an epic zero-gravity fall. Prepare yourselves for a heart-pounding vertical ascent as you board the Turbo Track. The ride propels you skyward at an incredible speed, shooting you up through the iconic Ferrari World Abu Dhabi red roof. Feel the rush of adrenaline as you soar above the park, enjoying panoramic views of Yas Island.
Take Your Friendship to New Heights with the Roof Walk Experience
Walk where no one walked before, and that too with your best pals! This incredible attraction takes the Ferrari World thrills to new heights, literally. This 60-Minute Experience enables you to walk on the world's most iconic red roof and get up close to the largest Ferrari logo in the world while soaking in a breath-taking aerial spectacle.
Push Your Limits Together with Flying Aces
Board your military bi-plane and scale 63 meters at a spectacular 51-degree incline. This incredible roller coaster combines speed, twists, and turns with a captivating storyline inspired by the daring escapades of Italian fighter ace, Count Baracca. As you board the vintage biplanes, you'll embark on a high-flying mission, soaring through the sky and experiencing the thrill of aerial combat.
With its gravity-defying maneuvers, including a heart-stopping 51-degree incline and speeds of up to 120 kilometers per hour, the Flying Aces promises an unforgettable and pulse-pounding adventure.
Conquer the Heights Through the Zip Line Experience
Take on Ferrari World Abu Dhabi's zipline and soar where no one soared before. Experience a rush of adrenaline, as you overlook the skyline of Abu Dhabi and fly through the heart of the iconic Flying Aces loop.
Go Full Throttle at Karting Academy
Region's first electric go-kart circuit, the Karting Academy at Ferrari World Abu Dhabi offers an exciting opportunity for racing enthusiasts of all ages to experience the thrill of karting. Located within the park, this state-of-the-art facility provides a safe and exhilarating environment for drivers to test their skills on a challenging track inspired by famous Formula 1 circuits.
Race through the track and compete with your friends as you feel the adrenaline rush while navigating sharp turns and accelerating down the straightaways. So, what are you waiting for? Pack your bags, gather your friends, and gear up for a world full of Ferrari-fueled fun! Enjoy these and many more Ferrari experiences while creating memories that will last a lifetime!