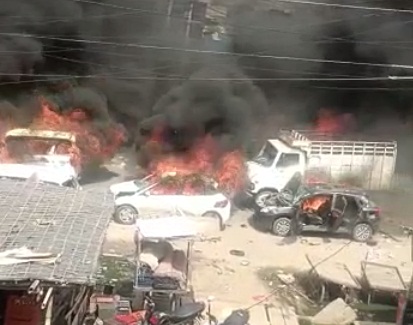 Chandigarh, July 31 (IANS) Nearly 2,500 people, comprising children, on Monday took shelter at a temple near Haryana's Gurugram as massive violence broke out in the Muslim-dominated Nuh area.
The police, who used teargas and fired shots into the air, have called in reinforcements. Nearly 20 people have been injured.
Massive violence broke out after stones were pelted and vehicles were set on fire during a religious procession. The violence broke out over reports of cow vigilante and Bhiwani deaths case accused Monu Manesar visiting Mewat.
Saying additional troops from neighbouring districts have been sent, Haryana Home Minister Anil Vij on Monday said adequate security arrangements have been put in place to restore peace in the Nuh area.
He said apart from the heavy deployment of Haryana Police, companies of paramilitary force are also being deployed to ensure that no untoward incident takes place.
"Adequate forces are being deployed there. We have also spoken to the Centre. We are trying to restore peace there. All those who are stranded in different areas of Mewat region are being rescued," Vij told the media.
Three companies of paramilitary force have been sent to the clash-hit areas. The Nuh police have decided to hold a peace meeting with the members of both communities at 8.30 p.m. on Monday.
Clashes erupted in Nuh district after some miscreants pelted stones and set cars on fire during a religious procession.
According to the police, religious procession 'Brij Mandal Jalabhishek Yatra', which was flagged off from Gurugram's Civil Lines by BJP district president Gargi Kakkar, was stopped by a group of men near Khedla Mod in Nuh.
Section 144 of CrPC has been imposed in the district.
The government suspended mobile Internet services in Nuh till August 2.
The order has been issued in order to stop the spread of misinformation and rumours through various social media platforms, such as WhatsApp, Facebook, Twitter, etc. on mobile phones and SMS.